While tractor selection one must know what size of tractor he needs. If you have the same question then you are on right place. In Pakistan we have limited number of tractor brands only a couple of them are manufacturing here. Below is the easy step by step tractor section guide for you better understanding.
Tractor Selection Guide
Tractor is a machine which develops traction for the purpose of pulling loads or implements. Traction is developed under the rear wheels of tractor when powered by an engine.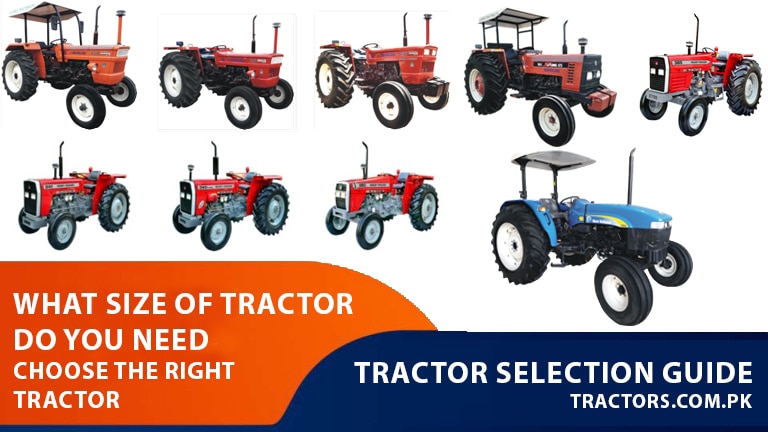 What Size of Tractor do you Need
Size of tractor is identified by its power rating in horsepower. There are different types of tractor with respect the nature of job. Manufacturers give each tractor a power rating. This rating is stated as the maximum rated horsepower developed at the flywheel or power take of shaft (PTO) and at the drawbar. The size of tractor is chosen based on power requirement of the machine going to be pulled or operated.
Machine power requirements are directly related to the number of acres per hour needed to get the job done on time. When selecting a tractor only for drawbar work and light PTO work, power should match the maximum drawbar horsepower requirements. The machines requiring the greatest drawbar power are the moldboard plow, chisel plow and subsoiler. The forage harvester is often used to determine the maximum PTO power requirements.
Determining power needs
Power requirements can be expressed in several ways. The most common ways are
Number of pounds or kilograms of drawbar pull
Land holding in number of acres
Required Hydraulic Power/capacity
Required PTO horsepower or RPMs
Commercial or construction related job
Tractor Selection Chart
Besides nature of job requirement of tractor HP can be decided with respect to land holding in acres or hectares. Usually in Pakistan following is the criteria for tractor selection.
| | |
| --- | --- |
| Land Size (Acres) | Required Tractor |
| 5-10 | 50/55 HP |
| 10-25 | 60/65 HP |
| 25-50 | 75 HP and above |
| 50-100 | 75 & 85 HP (02 Tractors) |
| Above 100 | 65, 75 & 85 HP (minimum 4 tractors) |
Tractor Selection as per Attachments
For tractor selection against an implement, the following chart is regarding choosing the right tractor for your farm.
In Pakistan there are two popular tractor brands, they are New Holland Al Ghazi Tractors and Massey Ferguson Millat Tractors Ltd. Both have 4 to 5 tractor models in different HP range.
Brand Selection Criteria:
After selecting the required HP now, you have to choose best brand of tractor available. You can choose best brand of tractor with following criteria.
Best Engine efficiency
Best Hydraulic system and load lifting capacity.
Economy of use
Long life
Efficient cooling system
Easy availability of Spares and services
Best Price (Acceptable with respect to quality)
Best Efficiency in performing fieldwork
Work capacity
Maximum Speed
Less Fuel consumption as compared to competition.
Conclusion:
Hope you have got some good knowledge for your tractor selection. Do not buy any tractor which exceeds your power requirements. It will cost you in any way when your work can be done with lower HP tractor why would you go for higher. Your input in comments will be appreciated. Cheers!