Potato planter is used to make ridges and plant potato seeds along with fertilizer at once. Potato planter price in Pakistan, working mechanism and specifications have been shared on this page.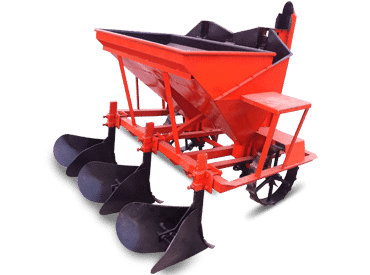 Potato Planter Price in Pakistan 2023:
| | |
| --- | --- |
| Type / Model | Price in PKR |
| 2 Ridges / Rows | Rs. 200,000 to 300,000 |
| 4 Ridges / Rows | Rs. 220,000 to 360,000 |
These are average prices of potato planter, price may vary with respect to the company and material quality.
Tractor required for Potato Planter:
A 75 to 85 Horsepower tractor is required to operate potato planter. Mostly MF 385 model of Massey Ferguson tractor is being used in upper areas. New Holland (AL-Ghazi Tractors Ltd.) has recently conducted demos of NH Dabung 85HP tractor with this planter. Results have been satisfying with good efficiency of engine and low fuel consumption. Rear tyre size which normally comes with above mentioned tractors is not compatible. So tyre size of 13.6-38 or 13.6-36 is used which has low width enabling the ridges spacing as required.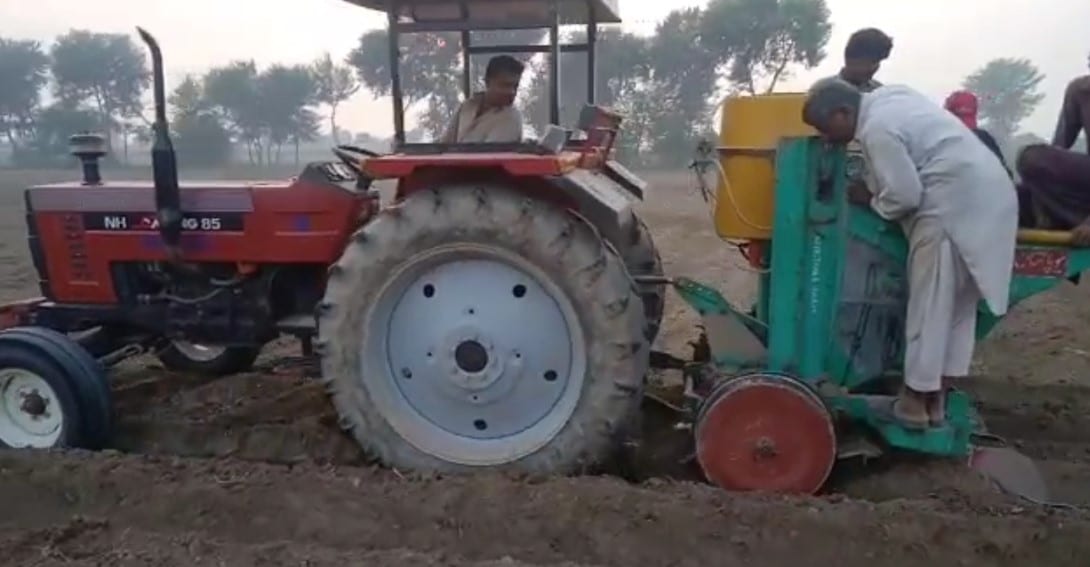 Check Also: MF 385 Tractor Price – New Holland Dabung 85 Tractor price
Potato crop is mostly sown in upper areas of Punjab province i.e. Okara, Sahiwal, Lahore, Arifwala, Pakpattan, Burewala, Vehari, Gujranwala, Khanewal, Chicha Watni etc.
Working Mechanism of Potato Planter
Potato seed pieces are entirely different in character from other seeds and the seed selection mechanism differs accordingly. Because of the irregularity of the size and shape of the seed, conventional cell type is not successful. The automatic mechanisms used are somewhat like the cup that moves through a well of seed and picks the potatoes.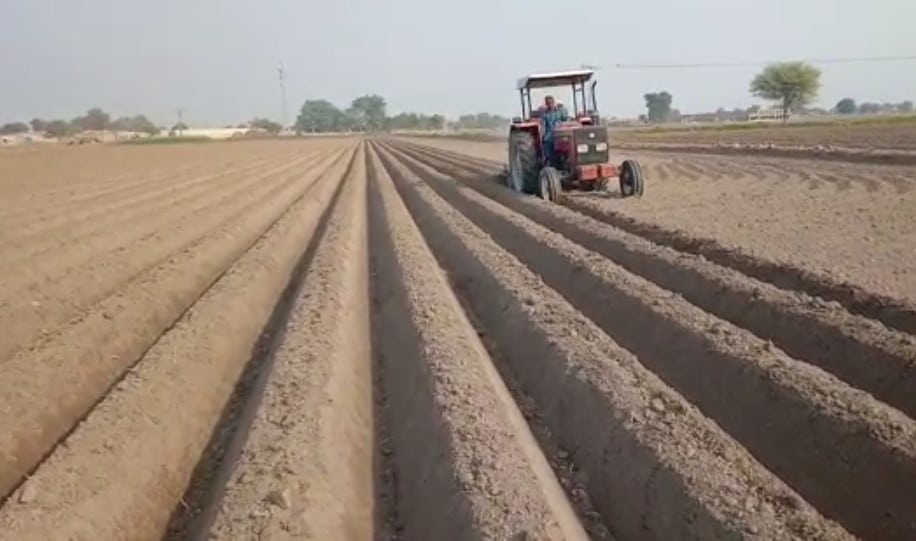 One type of selector arm has some actuated jaws, which hold a seed piece while passing up through the well and then release it into the boot on the opposite side. Another type of selection arms has been operated with picker points which are projected through the picker arm face as it passes up through the seed well thus spearing a seed piece to drop in the furrow made by the opener.
Seed spacing is controlled by seed speed of the rotation of the picker wheel varying from approximately 18cm to 45cm. Potatoes are planted deep and a wide opener is required to open a deep furrow for the seed, disc covers without press wheels are most common. Large amounts of fertilizer are often used with potatoes and to avoid damage the fertilizer should be placed in bands at each side and slightly below the seed. A pair of disk opens furrow for the fertilizer bands. The seed opener splits the soil between the bands, thus covering the fertilizers and preventing contact with the seed. Fertilizer hoppers have belt type or horizontal plate feeds capable of applying 35 to 40 q/ha.
Specifications:
| | | |
| --- | --- | --- |
| Number of rows | 2 | 4 |
| Tractor Power Required | 65HP & Above | 85HP & Above |
| Seed Capacity | 250 KG | 650KG |
| Fertilizer Box | 150 KG | 300KG |
| Line to Line Distance |  28″, 29″, 30″ |  28″, 29″, 30″ |
| Seed to Seed Spacing | 6″ | 6″ |
| Total width (W) | 2030 mm | 3400 mm |
| Total length with ridging body (L) | 1630 mm | 1690 mm |
| Total length with shaping board (L) | 2220 mm | 2260 mm |
| Total height (H) | 1650 mm | 1650 mm |
| Working depth | 160-170 mm | 160-170 mm |
| Working width | 1240-1700 mm | 2480-3400 mm |
| Tyre size | 6.00×16 mm | 10.0×82 mm |
Check Also: