AL Ghazi Tractors prices 2023 new list has been announced in September 2023. According to new price list tractor prices are increasing up to Rs. 400,000. New prices of AGTL tractor models now range from PKR 2,200,000 to PKR 4,575,000.
AGTL AL Ghazi Tractors Ltd. is a well-established renowned tractor company in Pakistan. Al Ghazi Tractor Prices 2023, specifications and review of all available models in Pakistan. AGTL is manufacturing tractors under the umbrella of New Holland technology. Engine power of their tractor is considered much more efficient. In the world, Pakistan is the country where Cheap and affordable tractors are produced. Customers from foreign countries prefer to purchase tractor from Pakistan. Here we have shared latest Al Ghazi Tractor Prices 2023, Millat tractors ltd is the strong competitor of AGTL.
Read Also: AGTL increases prices on previous bookings & Suspends new bookings
Al Ghazi Tractors said;
"Despite best efforts to keep the selling prices stable; severe currency devaluation, escalation in raw materials cost, abolishment of subsidy on utilities and changes in GST structure has forced AGTL to revise prices of all tractor models."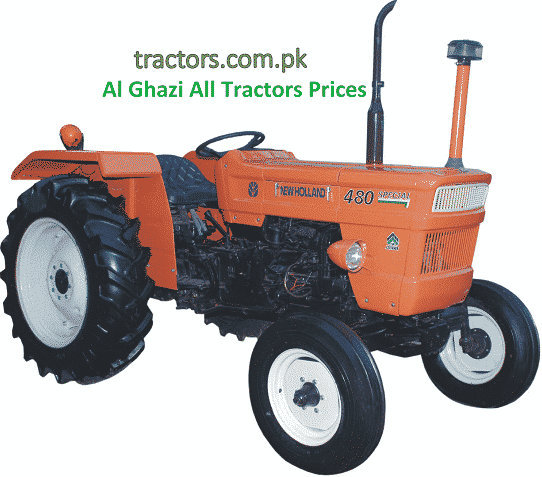 New Holland Al Ghazi Tractor Prices 2023:
AGTL Model

New Price

From 27-Sep-2023

NH-480s – 55HP
Rs. 2,194,000
NH-480 Power Plus – 55HP
Rs. 2,278,000
NH-Ghazi – 65HP
Rs. 2,550,000
NH-640 – 75HP
Rs. 3,325,000
NH Dabung 85HP
Rs. 3,430,000
NH-70-56 4WD 85HP
Rs. 4,575,000
New prices were announced on 20 Sep 2023.
AL Ghazi Tractor New Prices 2023 Circular
Below is the AGTL price circular in September 2023.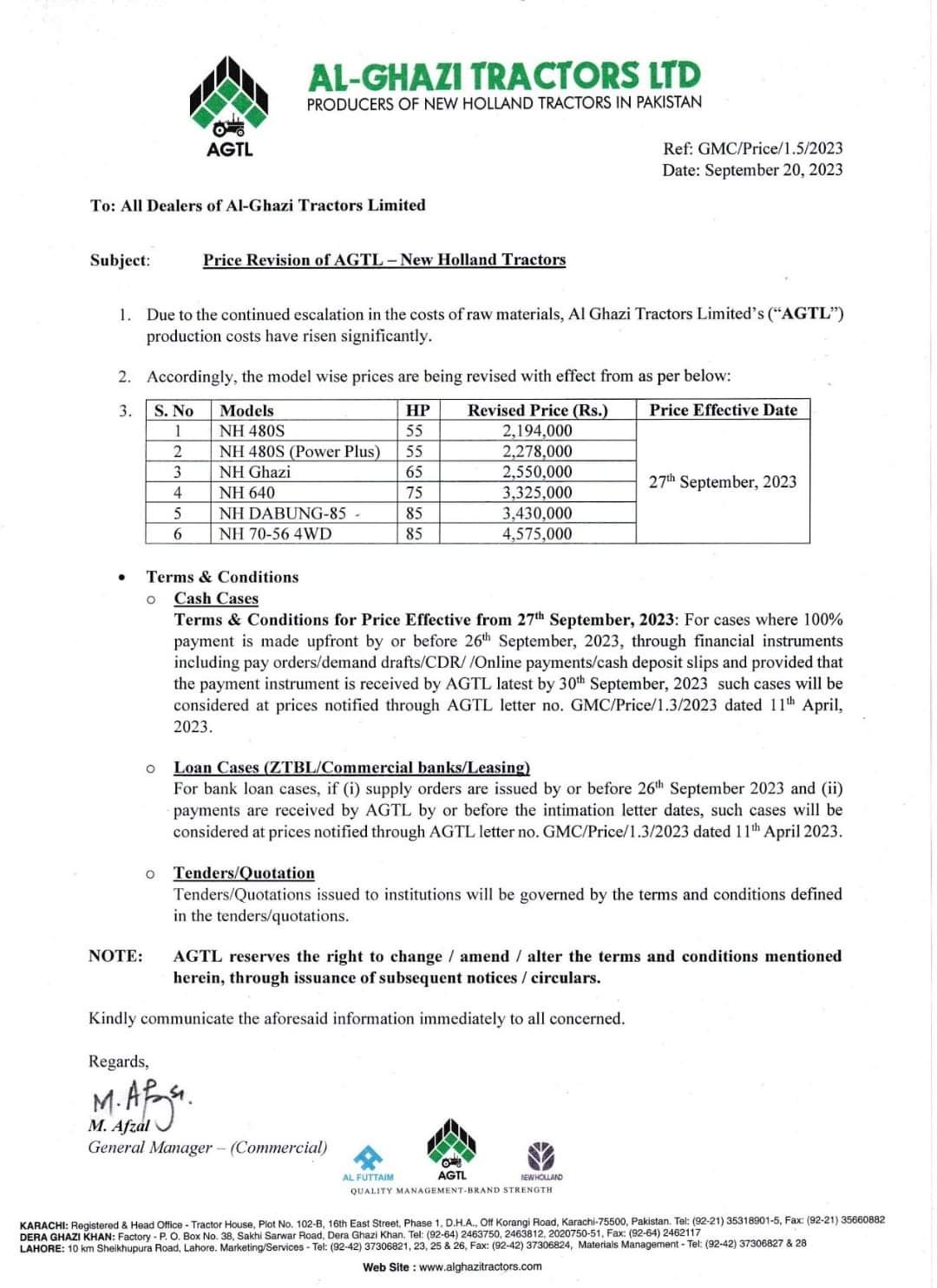 Check Also: BOP Al-Ghazi Tractor Loan Scheme at 4% markup
Check Details: AL Ghazi Model 2023 Blue Tractor
Prices of Discontinued Models:
| | | |
| --- | --- | --- |
| Discontinued Model / Variant | HP | Last Price |
| NH-480 Power Steering Sindh Version (Discontinued in Dec-2020) | 55 | 994,350 |
| NH-Ghazi Disc Brake (Discontinued) | 65 | 1,092,000 |
| NH-640 Disc Brake (Discontinued) | 75 | 1,452,150 |
| NH-640s (Discontinued) | 85 | 1,472,100 |
| NH-640s Disc Brake (Discontinued) | 85 | 1,475,250 |
| NH-55-56 (Discontinued) | 55 | N/A |
| NH-60-56 (Discontinued) | 65 | N/A |
| TD-95 (Discontinued) | 98 | 2,695,000 |
Total number of variants are 12 with different specifications and requirement of the customer. Below are the Ex-Factory Invoice rates of each model.
Booking & Delivery Procedure:
Al Ghazi Tractors have a countrywide dealership network in each district or tehsil. Customers can book their tractor by submitting full amount of price in the name of Al Ghazi tractor Ltd in any Bank of Pakistan. After this they will be given a Sales Order Number and they will have to wait for delivery. Delivery time can change day by day but company will provide a specific date of delivery. Remember company will book your tractor after having full payment in shape of Demand Draft of Online Cash Deposit in account.
If you do not want to book tractor from dealership and cannot wait for delivery time, you can go for direct purchase from private showroom. From there price of tractor will be according to Market price which can be below or above invoice rate.
Al Ghazi Tractor Warranty/Claim Period:
Company provides 14 months or 1200 hours running warranty of tractor parts. First and Second services must be on time and their coupons should be submitted in company too in given time.