Millat Tractors Prices revised and updated in August, 2023. Massey Ferguson / Millat Tractor is having market share of above 60% in Pakistan's tractor industry. Millat tractor models 2023 have no significant changes in specifications. Due to the depreciation of Pakistani Rupee against Dollar tractor prices increased significantly.
Since then, there has been a considerable increase in the cost of tractor production on account of the increase in taxes and prices of material, fuel, labour and other input costs.
ملت ٹریکٹرز نے 26اگست 2023سے اپنے تمام ماڈلز کی قیمتیں بڑھا دی ہیں۔ نئی قیمتیں نیچے دی گئی ہیں۔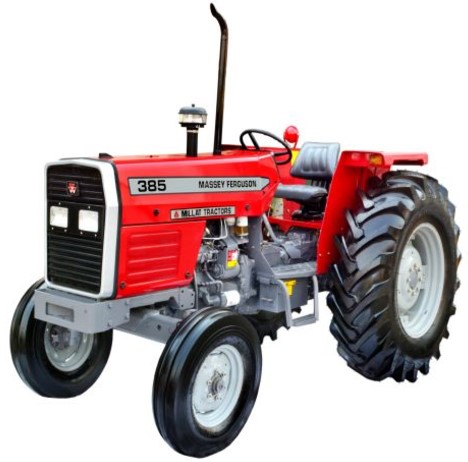 Millat Tractors Prices List Updated in August 2023:
Model
Old Price List
New Price List

26-August-2023

MF-240 2WD 50HP

Rs. 2,020,000
Rs. 2,190,000
MF-350 Plus 50HP

N/A
N/A
MF-260 2WD (Turbo) 60HP

Rs. 2,350,000

Special Edition: Rs. 2,392,000

Rs. 2,550,000

Special Edition: Rs. 2,600,000

MF-360 2WD 60HP

Rs. 2,480,000
Rs. 2,690,000
MF-360 4WD 60HP
Rs. 3,514,000
Rs. 3,795,000
MF-375-2WD 75HP

Rs. 3,102,000
Rs. 3,345,000
MF-375 4WD 75HP
Rs. 4,165,000
Rs. 4,500,000
MF-385 2WD 85HP

Rs. 3,213,000
Rs. 3,465,000
MF-385 – 4WD 85HP

Rs. 4,282,000
Rs. 4,585,000
MF 455 – 100HP

MF 470 – 120HP
New Price Circular of Millat Tractors August 2023: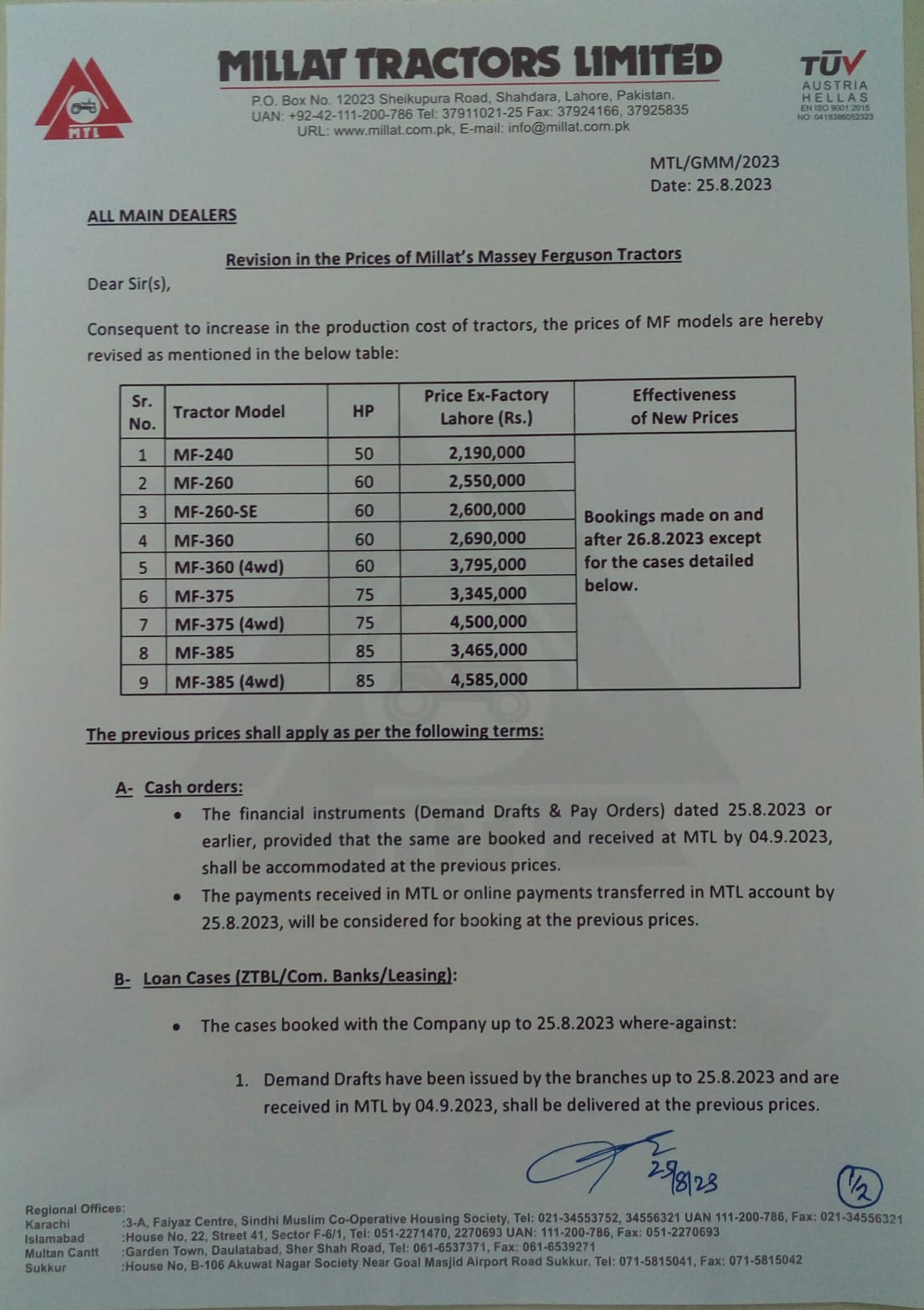 New prices were announced on 25 August 2023.
Check Also: Al Ghazi Tractors Price List
Check Also: PM Kamyab Kisan Tractor Loan Scheme with 3% markup
The above prices are applicable on all new bookings made against both Cash & Loan. However, in case of Institutional orders / Govt. tenders, the prices shall be applicable as per the terms of quotations already issued or terms of the tender. MF tractor is famous in sugarcane areas where tractors is used for haulage purpose. From the last year demand of 85 Horse Power tractor has been increased with notable figures. MF 385 tractor is always selling in black market with handsome premium amount, hence attracting the investors.
There are rumors in the market that Al Ghazi Tractors Ltd makers of New Holland tractors are also going to increase their tractor prices too. AGTL is at 2nd number in the market after Millat tractors with MS of 33%. We will share those also when the company increase the prices.
Share your reviews about  New Revised Millat Tractors Prices list 2023 producers of Massey Ferguson tractors in Pakistan.