What is Kamyab Jawan Kamyab Kisan Tractor Loan Scheme?
The government has planned to distribute 5,000 tractors among the youth under the Kamyab Jawan Kamyab Kisan Tractor Loan program 2021-22 for the development of the agricultural sector in the country. Kamyab Kissan Program Scheme launched by the government of Pakistan with the aim of providing all possible technical and financial assistance to farmers under the Kamyab Jawan Program.
Farmers will no longer have to mortgage land to get tractors on loan. The tractor loan which was earlier available on strict terms by mortgaging the land above 20% interest, will now be available under the Kamyab Jawan loan scheme at only 3% interest without any mortgage, including the farmers who cultivate the land on contract basis.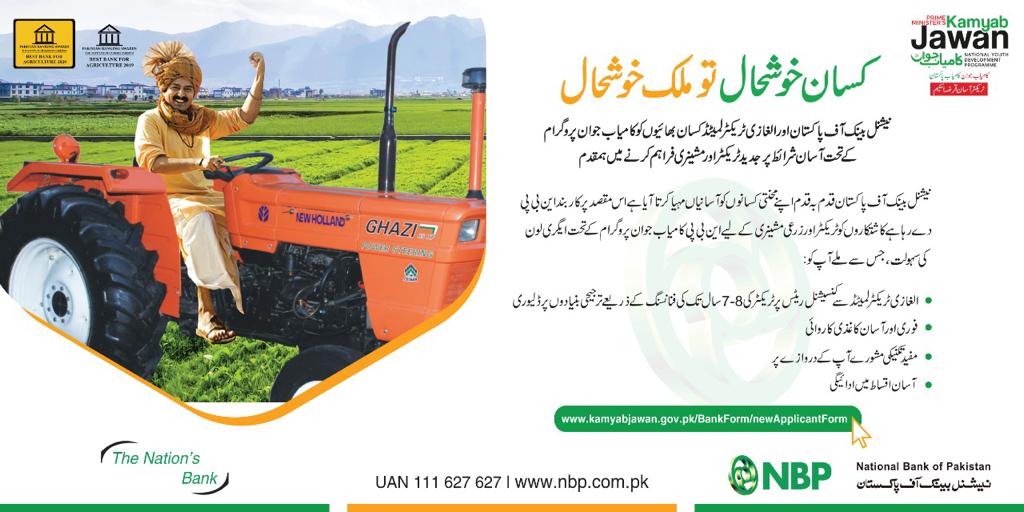 Kamyab Kisan Tractor Loan Scheme Major Points:
All commercial banks will give loan of 10 lac Rupees.
If tractor price is above 1 lac Rupees, you will have to pay the difference amount.
Annual interest rate of Kamyab Kissan Tractor loan is only 3%.
Loan installments duration will be for 7 to 8 years.
Installments will be on monthly basis.
10% advance payment will be paid.
Tractor loan is available for all local tractor companies.
Under Kamyab Kissan Tractor loan scheme any model of Massey Ferguson (Millat Tractors) and New Holland (Al-Ghazi Tractors) is available.
Kamyab Kisan Tractor Loan Detail in Urdu
تجارتی بینک ٹریکٹر کی مد میں10 لاکھ روپے کا قرض دیں گے۔

اگر ٹریکٹر کی قیمت 10 لاکھ سے زائد ہے تو آپ کو فرق کی رقم ادا کرنی ہوگی۔

کمیاب کسان ٹریکٹر لون کی سالانہ شرح سود صرف 3 فیصد ہے۔

قرض کی قسطوں کی مدت 7 سے 8 سال ہوگی۔

قسطیں ماہانہ بنیادوں پر ہوں گی۔

10٪ ایڈوانس ادائیگی ہوگی۔

تمام مقامی ٹریکٹر کمپنیوں کے لئے ٹریکٹر لون دستیاب ہے۔

کمیاب کسان ٹریکٹر لون اسکیم کے تحت میسی فرگوسن (ملت ٹریکٹرز) اور نیو ہالینڈ (الغازی ٹریکٹرز) کا کوئی بھی ماڈل دستیاب ہے

۔

How to Apply for Kamyab Jawan Kamyab Kisan Tractor Loan?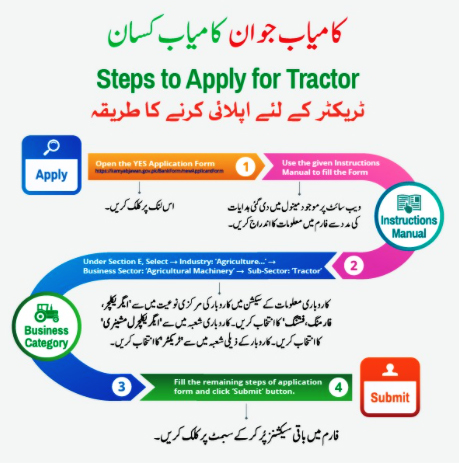 You can apply online for Kamyab Kisan Tractor Loan at Kamyab Jawan website. Website link is https://kamyabjawan.gov.pk/BankForm/NewApplicantForm . Provide all the information and documents required to get tractor loan.
Fill the complete form as per instructions given below.
Under Section E (Step 5 on the form), select the following options:

Industry: Agriculture
Business Sector: Agriculture Machinery
Sub-sector: Tractor
List of Banks for Kamyab Kisan Program:
BOP – Bank of Punjab
NBP – National Bank of Pakistan
Instruction of Applying Online for Tractor Loan: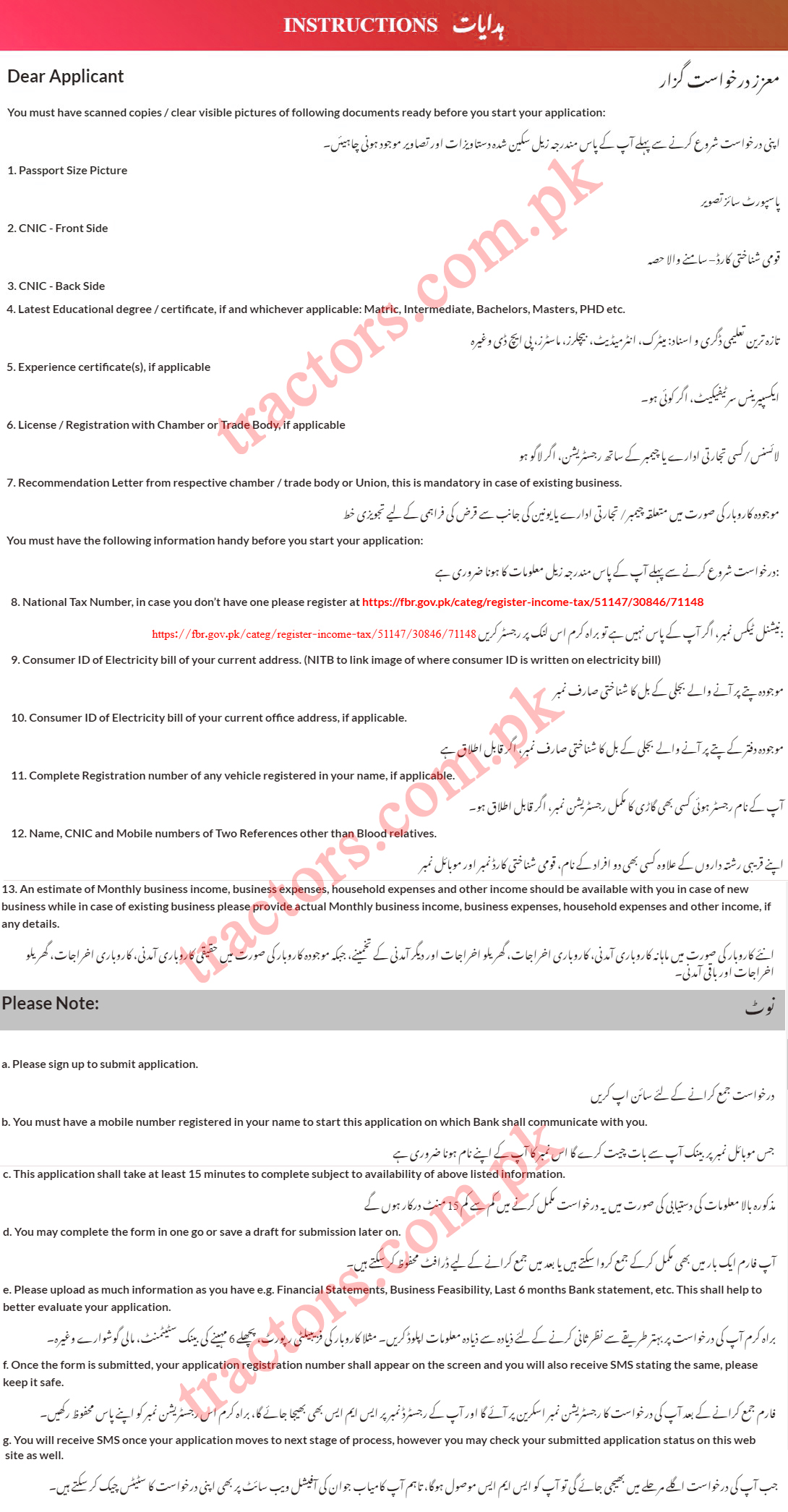 For complete guidance of Kamyab Jawan loan registration you can download user manual from here.