Tractor Subsidy Scheme 2020-21 – Sales tax Subsidy on local Tractors live updates
The government of Pakistan has approved a tractor subsidy of Rs 1.5 billion for tractors manufactured in Pakistan. A statement issued by the Ministry of Food Security that the subsidy would be given in the form of sales tax across the country. At present, a sales tax of 5% is levied on the sale of each tractor. Ministry further said that the annual sales of tractors in the year 2019 was 41,000 units, the average sales tax per tractor is Rs 60,000, the sales tax subsidy on tractors is for one year i.e. till 31st June 2021 depending upon if the amount of Rs. 1.5 billion exhausts earlier or within a year.

Subsidy Scheme Eligibility:
Customer having valid proof of landholding i.e. Agriculture passbook, record of rights of agricultural land (Fard Malkiyat), duly verified by competent Provincial Revenue Authorities as per government instructions.
Validity of Scheme:
The above scheme will remain valid till June 30, 2021 or lapse of subsidy amount whichever comes earlier. For sales tax subsidy, special procedures & rules issued to farmers and cultivators. Sales tax paid on sale of tractors is subsidized. FBR has issued Sales Tax Special Procedure Rules 2020 for subsidy adjustment on sales tax on supply of locally manufactured tractors. This tractor scheme is valid in all provinces of Pakistan i.e. Punjab, Sindh, KPK and Balochistan.
Requirements For Tractor Booking
Tractor booking through the dealership of respective company brand.
Demand draft equal to base price (without 5 % GST) of tractor in favor of relevant tractor comany.
Attested copy of agricultural pass book (minimum agricultural land not specified) and record of rights of agriculture land (Fard-e­-Malkiyat) duly attested (Sign and Stamp) by competent Provincial Revenue Authorities as per government instructions. Undertaking of dealer on dealership letterhead pad and on stamp paper of Rs 200 as per specimen attached.
Signature and Left thumb impression of customer is must on booking form, undertaking and delivery receipt documents with stamp paper of Rs. 200
Rules of subsidy on sales tax:
A tractor subsidy cell in the IR Operation Wing of the FBR will provide subsidy on sale of tractors to farmers and cultivators. Tractors manufacturers will submit the data of tractors supply through Form-C and returns to the federal excise duty sales tax before the 5th of every month. Those manufacturers are eligible for subsidy who sell tractors to farmers and cultivators. For this, they will provide proof in the shape of an agricultural passbook attested from the Provincial Revenue Authority. FBR will get a report in their subsidy cell after verification by the Ministry of Food Security and Research.
Eligible Tractor Companies for Tractor Subsidy:
Locally manufactured tractor companies Millat Tractors Ltd., Al Ghazi Tractors Ltd. and Orient Tractors Pvt. Ltd. are eligible for tractor subsidy on sales tax.
Note: Belarus Tractors, Euro ford, all Chinese imported tractors like YTO, Tumosan are not eligible under this tractor scheme.
Al-Ghazi Tractor Rates after sales tax exemption: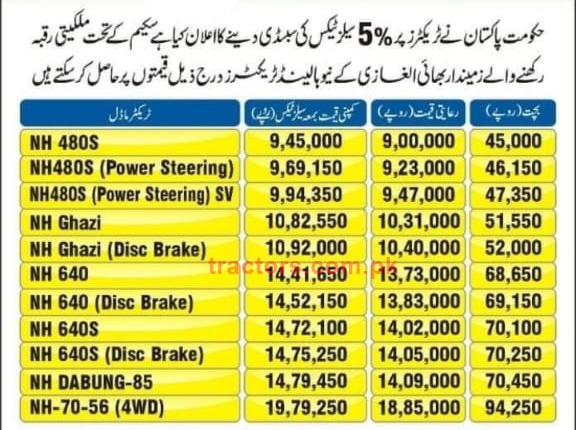 Millat Tractor Rates after sales tax exemption: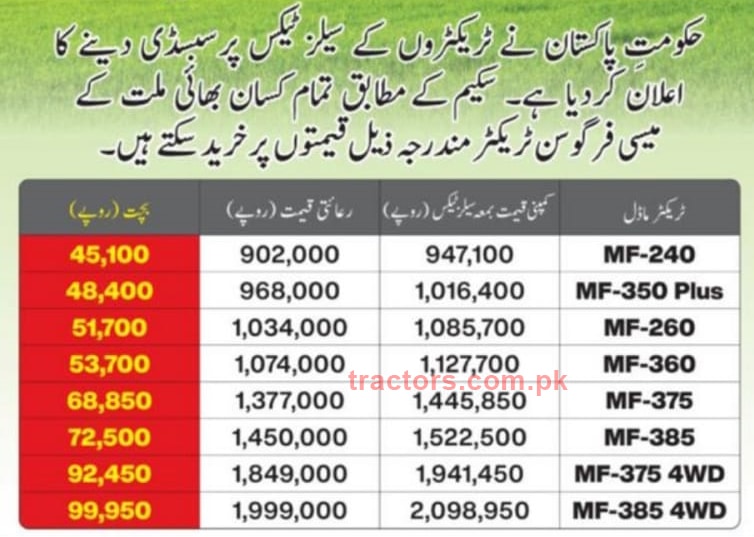 Download notification of tractor subsidy including the procedure of sales tax exemption from FBR website.
Page updated on 27th November 2020.