Millat Tractors Ltd. is manufacturing tractors under the technology of Massey Ferguson. Massey Ferguson Tractor Prices 2023 revised in October of this year. Millat tractors are the Market leader in Pakistan tractor industry. Millat Tractors Prices are given below along with their technology review, specifications and most selling models. Millat tractor overall share in the Market is above 60% competing the all tractor companies in Pakistan.
ملت ٹریکٹرز نے آج 31جنوری 2023 کو اپنے ٹریکٹرز کی قیمتوں میں7 لاکھ تک کا اضافہ کر دیا ہے۔ نئی قیمتیں نیچے دی گئی ہیں۔
Massey Ferguson Tractor Prices in Pakistan 2023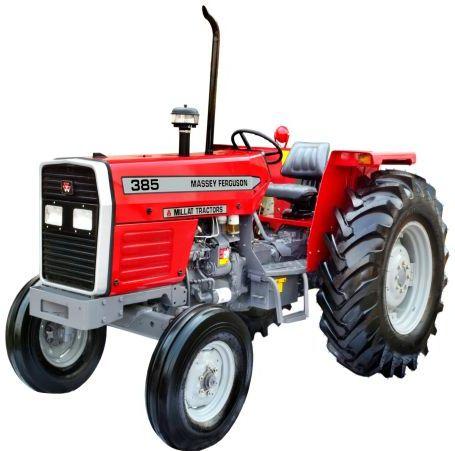 | | | |
| --- | --- | --- |
| Tractor Model | Old Price | New Price |
| MF 240 2WD – 50HP | 1,524,000 |       1,795,000 |
| MF 350 Plus -50HP | 1,770,000 | |
| MF 260 Special Edtion | |       2,115,000 |
| MF 260 2WD  -60HP | 1,756,000 |       2,075,000 |
| MF 360-2WD – 60P | 1,856,000 |       2,195,000 |
| MF 360-4WD – 60HP | 2,583,000 |       3,140,000 |
| MF 375-2WD – 75HP | 2,306,000 |       2,766,000 |
| MF375-4WD – 75HP | 2,989,000 |       3,730,000 |
| MF 385-2WD – 85HP | 2,387,000 |       2,860,000 |
| MF 385 (4WD) – 85HP | 3,083,000 |       3,788,000 |
Check Also: New Holland tractor Price List
New Price Circular of Millat Tractors: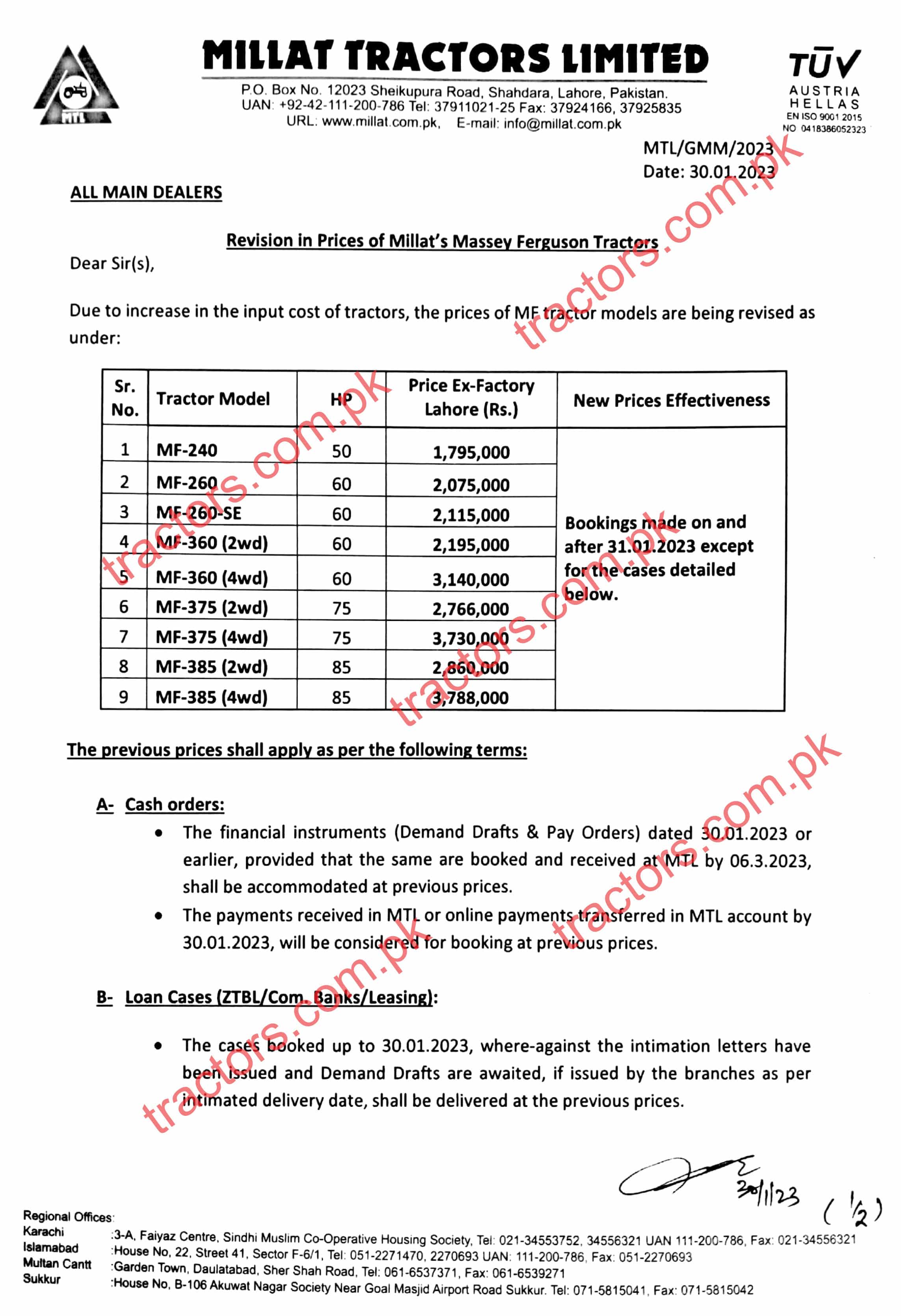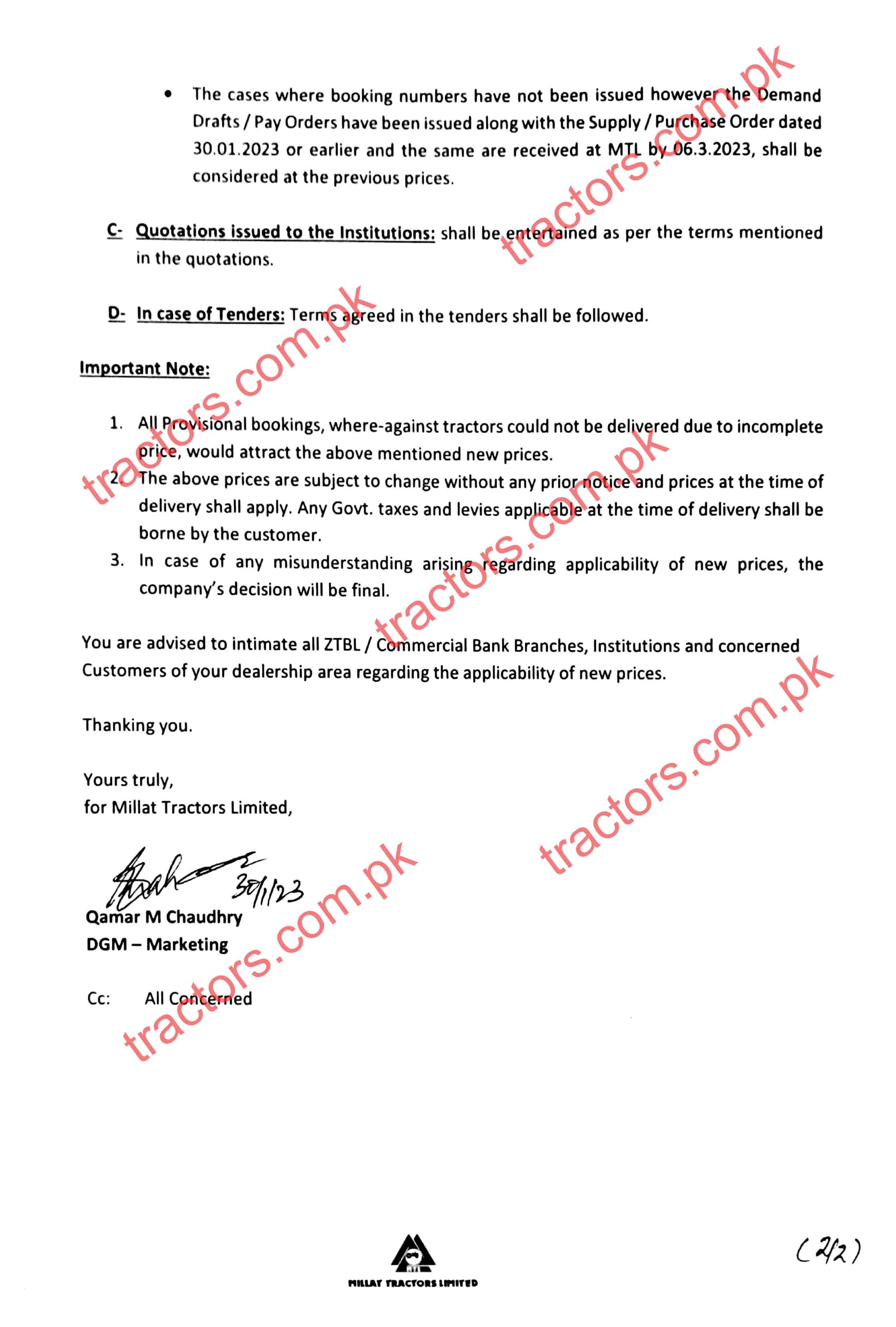 New prices were announced on 31 January 2023.
Massey Ferguson / Millat Tractors Review:
In Pakistan MF models are considered to be good with strong rare portion. That's why farmers usually use their tractor for mostly haulage purpose. In Sugarcane areas there more number of Massey Ferguson tractor than New Holland Al ghazi tractors. As Al Ghazi tractors are weak from rare portion with plenty of rare axle tubes breakage complaints. But if we talk about farming purpose i.e. for implements usage than MF models are not good as their engine is not capable of working in high temperature.
Farmer community says MF models are weak when it comes to engine. The durability of engine is less, Engine gets heated if we use these tractors on PTO power or with implements in the field. Now days there are lot of engine complaints are coming in recently MF models. If you want to use your tractor for farming purpose then you better book or purchase Al ghazi new Holland model.
Right now most selling models of MF tractor are MF260 and MF385. MF385 is the hot cake for them. Where there are more sugar mills there will be more MF385 tractor.
Check Also: Latest Al Ghazi Tractor Prices FIAT New Holland All Models in Pakistan
Dealership and After Sales Service Network:
Millat tractors have vast network of dealerships in all four Provinces of Pakistan. Tractors are sold with warranty period of one year or 1200 hours running. Spare parts claim is accepted within the warranty duration. For after sales services their authorized workshops are in every city. Booking/Sales/purchase is done through dealerships.