Massey Ferguson MF 350 tractor model has the same horsepower as MF 240 has. Check the difference between both models and MF 350 plus tractor price in Pakistan, its specification and review. Millat Tractors Ltd. is manufacturing 350 plus tractor in Pakistan. This model is known as MF 350 plus with power steering. This is the modified version of Massey Ferguson 240 tractor model having extra features.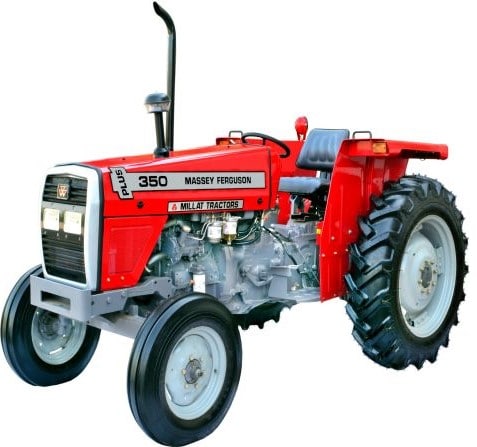 MF 350 plus Tractor Price in Pakistan 2023:
| | |
| --- | --- |
| Previous Price | New Price |
| Rs. 1,770,000 | Rs. N/A |
New price Effective from June 25, 2022
Main Features of MF 350 Tractor
Hydrostatic power steering, tired less working for the driver.
More hydraulic lift power and capacity than MF 240.
MF 350 tractor has Oil immersed, multi-disc brakes.
Gross weight of MF 350 plus is more than 240 tractor.
Spring Suspension Deluxe Seat
Easy Accessibility to Service/Maintenance Points
1 year or 1200 hours spare parts warranty.
PERFORMANCE
Maximum engine power at 2,250 rpm
50 (B.S.) hp*
Maximum torque at 1,350 rpm
172 Nm
Maximum PTO power at rated engine speed
44 hp**
ENGINE
Make / Type
Diesel / AD 3.152
No. of cylinders
3
Injection
Direct
Bore
91.4 mm
Stroke
127.0 mm
Capacity
2.5 l
Compression ratio
16.5 : 1
Starting Aid
Thermostart
Throttle control
Hand and foot
Cooling
Water
Air Cleaner
Oil bath
Air Pre Cleaner
Over bonnet, air swirl
Fuel filter
Dual, high capacity
Exhaust
Vertical, Muffler under Bonnet
ELECTRICS
Voltage
12 V, Negative Earth
Battery
118 Ah
Starter
2.2 kW
Alternator
32 Amp.
CLUTCH
Type
Dual Clutch
Diameter
305 x 254 mm
TRANSMISSION
Type
Sliding Spur
Number of gears
8 forward, 2 reverse
Gear
Speed (km/hr)
Forward 1 (First low)
2.4
Forward 2
3.5
Forward 3
4.8
Forward 4
6.5
Forward 5 (First high)
9.6
Forward 6
14.1
Forward 7
19.2
Forward 8
26
Reverse 1 (Low)
3.3
Reverse 2 (High)
13.1
POWER TAKE OFF (PTO)
Type
Live
Engine speed at 540 PTO rpm
1,789 rpm
Shaft diameter
35 mm
No. of splines
6
HYDRAULICS
Functions
Draft Control, Position Control, Response Control, Constant Pumping
Pump Type Maximum Oil Flow
Reciprocating Ferguson 16.70 l / min
Maximum pressure
21 Mpa at normal operating temperature
Max. lift capacity at lower links horizontal
2,145 kg
Lower Links
Cat. 1 & 2 with interchangeable balls
STEERING
Type
Hydrostatic
REAR AXLE AND BRAKES
Brake Type
Oil immersed, multi-disc
Brake Actuation
Mechanical
Axle Type
Straddle with Epicyclic Reduction Unit
Parking brake
Hand Lever Operated
Differential lock
Mechanical
INSTRUMENTATION
Gauges
Tachometer, Hourmeter, Fuel level, Battery condition & Water temperature
Warning lights
Direction indicators, Battery charge, Headlight main beam, Low engine oil pressure, Brake lights and Auxiliary socket
TYRES SIZE
Front
6.00 -16 (6 PR)
Rear
12.4/11-28 (6 PR)
TRACK ADJUSTMENT
Front
1,275-1,884 mm
Rear
1,438-2,125 mm
WEIGHT AND DIMENSIONS
(With 6.00-16 front and 12.4/11-28 rear wheel and with full fuel, oil and water)
Weight
Gross Weight (Approx.)
1,940 kg
Dimensions
Wheel base
2,022 mm
Overall length
3,390 mm
Overall width
1,820 mm
Height
Over Exhaust
2,200 mm
Over Steering Wheel
1,520 mm
Turning circle
With brakes
5,440 mm
Without brakes
7,100 mm
Ground clearance under the gearbox
380 mm
CAPACITIES
Fuel Tank
45 liters
Engine sump
45 liters
Cooling system
45 liters
Hydraulic system
45 liters
Steering box
45 liters
Oil bath air cleaner
45 liters
STANDARD EQUIPMENT
Weight frame without weights, Standard tool box with set of tools, Top link,Top link end Cat – l & ll balls, Check Chains, Spring Suspension Seat, Flat top Fenders, Operator's & Service Manual.
OPTIONAL EQUIPMENT
Front end weights, Swinging Draw bar, Sun Canopy, Pintle Hook & 9 hole draw bar.
MF 350 Tractor Review
Demand of MF 350 tractor is very low in Pakistan. Rather than this model MF240 sales is very much high. Customers who want power steering and disc brakes buy this tractor. The market value of MF 350 tractor is less than other Millat tractor models. This model is exported to other countries from Pakistan. Only buy this tractor if you want to use it for long time not for resale. The competitor of 350 plus tractor is New Holland 480S Power. NH 480S has more demand and sales than MF 350.
MF 350 Tractor Specifications