MF 375 Tractor Price is Rs. 3,345,000 it is 3rd most selling model of Millat tractors after MF 385 and MF 260. MF 375 75HP competitor is New Holland 640 tractor by AL Ghazi tractors. Massey 375 tractor is 75 Horse Power and popular in sugarcane crop areas and has less demand as compared to other models.On this page you will find price, specification and complete review of MF 375 tractor in Pakistan.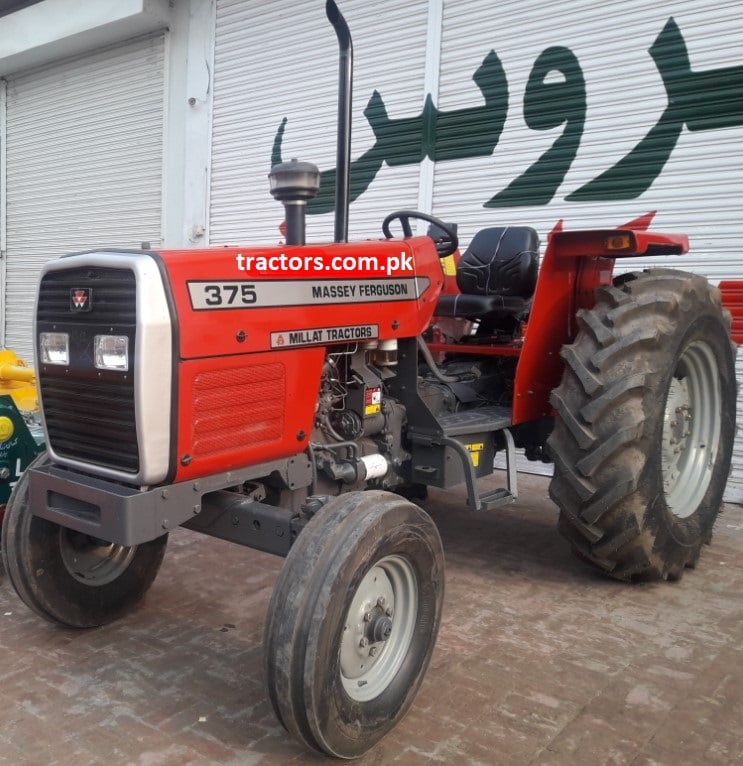 MF 375 Tractor Price in Pakistan 2023:
| | |
| --- | --- |
| Model | New Price |
| MF 375-2WD | Rs. 3,345,000 |
| MF 375-4WD | Rs. 4,500,000 |
New price Effective from 26-August-2023
 Prominent Features of Millat 375 Tractor:
New Highly Effective Head Lights and Elegant Indicators.
Hydraulically actuated Efficient Oil Immersed Multi-Disc Brake System.
Mid Mounted Bigger Balancer for reduced Engine vibrations and Smooth Running.
Improved Harness Set with Heat Shrinkage Sleeves & Water Proof Couplers.
Robust Straddle Rear Axle with Epicyclical Reduction Unit.
Durable & Highly Efficient Low Noise Engine.
New Aerodynamic look with Stylish Wrapper & Gill.
Oil Cooler Added for Effective Cooling.
Heavy Duty Front Axle & Support.
New Spring Suspension Deluxe Seat.
Hydrostatic Power Steering.
Smart Steering Wheel for Reduced Steering Effort.
Specifications of MF 375 Tractor:
PERFORMANCE
Engine power at 2,200 rpm: 75 (B.S) hp*
Torque at 1,400 rpm: 290 Nm
PTO power at rated engine speed: 69.5 hp**
PTO power at 540 rpm   63.0 hp
Engine certified to BS.AU 141a: (1971) Manufacturer's estimate
ENGINE
Type: Diesel / 4.41
No. of cylinders: 04
Injection: Direct
Bore: 101 mm
Stroke: 127 mm
Capacity (litres): 4.1
Aspiration: Natural
Compression ratio: 15.3:1
Starting aid: Thermostart
Throttle control: Hand and foot
Cooling: Water
Air Cleaner Type: Oil bath
Air Pre-Cleaner: Over bonnet
Fuel filter: Dual, high capacity
Exhaust: Vertical muffler under bonnet
Oil Cooler: Water Cooled
POWER TAKE OFF (PTO)
Type: Live
Engine speed at 540 PTO: 1,789 rpm
Shaft diameter: 35 mm
No. of splines: 6
HYDRAULICS
Functions: Draft control, Position control, Response Control, Constant pumping
Pump Type: Reciprocating Ferguson Pump
Oil Flow: 16.7 L/ min
Pressure: 21.2 MPa at normal operating temperature
Lift capacity with lower links horizontal: 2,145 kg
Lower links: With Cat. I & II interchangeable balls
WEIGHTS AND DIMENSIONS
(With 7.50-16 front & 16.9/ 14-30 rear wheel and with full fuel, oil and water)
Dimensions
Wheel base: 2,170 mm
Overall length: 3,670 mm
Width (min.): 1,970 mm
Height
Over Exhaust: 2,485 mm
Over Steering: 1,730 mm
Turning circle
With brakes: 7,260 mm
Without brakes: 8,095 mm
Ground clearance: 501 mm (Under gear box)
ELECTRICS
Voltage: 12V, Negative Earth
Battery: 118 Ah
Starter Motor: 2.8 kW
Alternator: 45 Amp
CLUTCH
Type: Dual clutch
Diameter: 305×254 mm
Lining material: Cerametallic
TRANSMISSION
Type: Sliding spur
Number of gears 8 forward, 2 reverse Road speed at 2,200 engine rpm with 16.9/14-30 rear tyres.
Gear           Speed (km/hr)
Forward 1: (first low) 2.65
Forward 2: 3.89
Forward 3: 5.32
Forward 4: 7.14
Forward 5: (first high)    10.62
STEERING
FRONT AXLE
Type: Heavy Duty Box Section, Adjustable
REAR AXLE AND BRAKES
Axle Type: Straddle with epicyclic reduction unit
Brake Type: Oil immersed, multi-disc
Brake Pedal: Pendant
Braking Area: 1,774 sq.cm
Brakes Actuation: Hydraulic
Parking Brake: Hand lever operated
INSTRUMENTATION
Gauges: Tachometer, Hour meter, Fuel level, Battery condition & Water temperature
Warning lights: Direction indicators, Electric charge, Headlight main beam, Low engine oil pressure, Brake lights & Auxiliary
TYRES
Front: 7.50-16 (6PR)
Rear: 16.9/14-30 (6 PR)
CAPACITIES (Liters)
Fuel Tank: 108.0 2
Engine sump: 7.5
Cooling system: 15.2
Hydraulic system: 36.0
Hydrostatic steering reservoir: 2.0
Oil bath air – cleaner: 0.7
Brake Oil: 0.25
STANDARD EQUIPMENT
Weight frame without weights, Standard tool box with set of tools, Top link, Top link end Cat-I, & II balls, Check Chains, Stabilizer Chains, Spring suspension seat, Flat top fenders & Operator's and service manual.
OPTIONAL EQUIPMENT
Front end weights, swinging drawbar, sun canopy, pintle hook and hole drawbar.
Review of MF 375 Tractor:
Millat and Al Ghazi Tractors both had tough competition from the start of 2018 year. MF 375 is mostly used for tractor trolley or haulage purpose. Engine of MF385 and MF375 is same difference comes in tyre size and other little things. Market share of NH 640 and MF 375 tractor is almost 50-50 percent. NH640 has slightly 2 to 3 percent more MS as compared to this tractor.
In Pakistan 75HP tractor's sale is less than 85HP and 65HP. In Pakistan most selling tractor models are NH480, NH Ghazi, MF260 and MF385. Fuel consumption of this tractor is little more than NH640. If you want to buy it for farming (ploughing) purposes then better go for NH640. If you want to buy MF 375 tractor I would suggest go for 85HP MF385 or NH Dabung tractor of New Holland. There is little price difference and you will have 10HP more.
Check Also: All Tractor Companies Prices
MF 375 tractor price is similar to NH 640 tractor which is competitor.