A complete guide for Zarai Taraqiati Bank Limited  ZTBL Tractor Loan Scheme 2023. ZTBL Tractor Loan is continued since long time in Pakistan. ZTBL tractor financing helped farmers to get their own tractor against pledging agriculture land. Tractor loan from ZTBL consists on a complete file of procedure. 10 years ago Zarai Bank financed a handsome number of tractors in Pakistan by tractor loan subsidy.
From Last 7 years, ZTBL tractor loan scheme has reduced the number of tractors financing. The reason behind this is buying power of farmer or customer has increased. So cash business boosted in tractor industry. Commercial Banks like HBL, Bank AL Habib, JS Bank, BOP, NBP are also financing tractors loan. In ZTBL agriculture loan, ZTBL Tractor Loan Scheme is always preferred because every farmer used to get a tractor from it.
If you want to know how to get tractor loan in Pakistan carefully read the instructions given below. Zarai Taraqiati Bank limited loan for tractors has some advantages on other commercial banks loaning. Currently ZTBL tractor loan scheme in Pakistan are Kissan Dost Scheme (KDS) and Sada Bahar Scheme (SBS). Zarai Taraqiati Bank Limited tractor scheme requirements and eligibility criteria is as follows.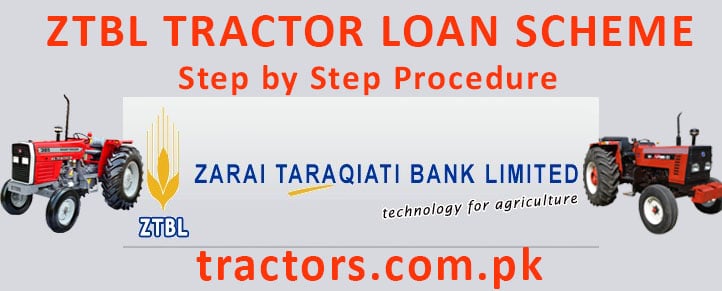 ZTBL Tractor Loan Scheme Step by Step:
Requirements for ZTBL Tractor Loan Scheme :
Borrower's CNIC Copy
Passport Size Photos 4 Nos.
Agricultural land required minimum 5 Acres for small HP tractor
Minimum 12 acres agricultural land for higher HP tractor.
Zarai Pass book
Jama bandi, Khsra Gardawari
Average crop yield (Aost Bay)
CIB report, (no bank defaulter)
Terms & Conditions:
1. Tractor Loan Guarantee:
Registration of tractor will be joint on bank and customer name. Customer will have to transfer his agriculture land on bank's name.
2. Mark up rate Percentage:
ZTBL tractor loaning markup rate is 19.50%
3. Maximum Loan amount:
Rupees 10 Lac (Rs. 2,500,000/-)
4. Leasing Duration:
5 or 8 Years
5. Down Payment:
10% of the total loaning amount
6. Loan application charges:
2% of the total loan amount
7. Other charges:
Tractor registration, 1% Insurance fee and demand draft charges.
8. Installments Period:
After every 6 months.
Stepwise Procedure to avail ZTBL Tractor Loan Scheme 2023:
ZTBL Bank will open your account in the respective branch
Get quotation of required tractor model from dealer of tractor company (, Millat Tractors Massey Ferguson, Belarus/Russian Tractor, IMT)and come into branch
Only locally made tractors are eligible for tractor loan
Get the Loan application file after approval of ZTBL branch manager
Bank will start the process of transferring your agriculture land on the bank name
After land pledging pay the loan application fee, down payment and registration charges.
After loan sanction bank will issue a supply order of the required tractor to the respective company
Tractor company will issue an intimation letter mentioning tractor delivery date
Now bank issues demand draft DD of tractor price to company for tractor delivery
Company will deliver tractor on mention date in intimation letter
Now pay delivery charges to company dealer and get your tractor way to home
Happy getting tractor loan 🙂
Eligible Tractor Companies for tractor Loan:
510 – 510.2 – 80.1
IMT 549 – IMT 565 – IMT 577