Wheat Straw Chopper machine is operated by tractor's PTO. Its job is to collect the wheat straws harvested and dropped by a combine harvester and to cut them in small pieces. After chopping the straws, blower sends them to the trolley or trailer attached at the back. A tractor is required to operate this wheat straw chopper / reaper machine. In India this machine is known as wheat straw reaper machine.
Some latest combine harvesters have the ability to make the wheat straw cut into tiny pieces. In Pakistan these small pieces of wheat straws are called toori or bhoosa (Toori Wali machine). This machine also harvests or cut the stubbles of wheat left by combine machine. It is also called small combine harvester as it also collects wheat grains from the waste.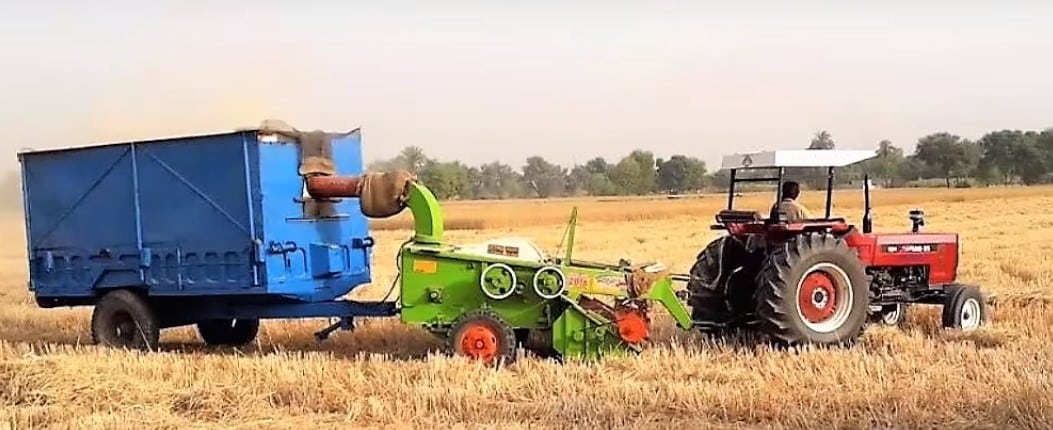 Wheat Straw Chopper Machine Price in Pakistan 2022
Model

Price List

Indian Made

Rs. 7 to 8 Lakh

Pakistani Made

Rs. 5 to 6 Lakh

Millat Tractors Wheat Straw Reaper /  Chopper

Rs. 890,000

 
Indian made models available in Pakistan are PavitJit, JS Agri and JaggatJit. Straw chopper machines are being manufactured in Gujranwala, Okara, Faisalabad and Multan, Punjab Pakistan.
Wheat Straw Chopper Machine Parts
This machine consists of the following parts.
Heavy duty gearbox which is operated by PTO shaft of the tractor.
Blades for shaving the stubbles and to cut in pieces.
Grain tank to collect and abstract grains from the leftover.
Thresher drum
Air blower to drop straw in the trolley
Features of Wheat Straw Chopper / Reaper
Harvesting and cutting capacity of 2 acres per hour
Efficient for handling the waste
Less fuel consumption
40 horsepower tractor is enough to operate this machine
Fuel consumption is 4 to 5 liters per hour
Reaps the stubbles and saves grain loss
General Specification of Wheat Straw Chopper
| | |
| --- | --- |
| Number of blowers | 1 or 2 |
| Weight | 1600 to 2000 kg |
| Effective cutting width | 2000 to 2400 mm |
| Number of cutting blades | 24 to 32 |
| Cutting height | 50 to 60mm |
| Length of thresher drum | 1200-1400 mm |
| Diameter of drum with blades | 750 mm |
| Thresher Speed | 540 to 850 PRM |
| Number of blades on drum | 250 to 300 |
| Tyre Size | 6.00-14 |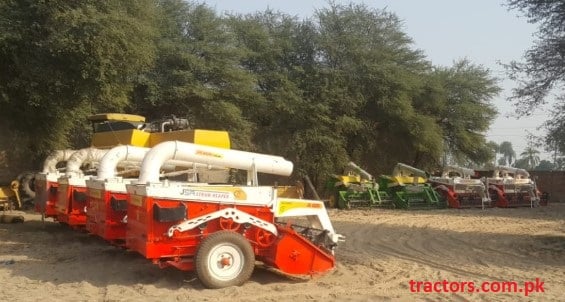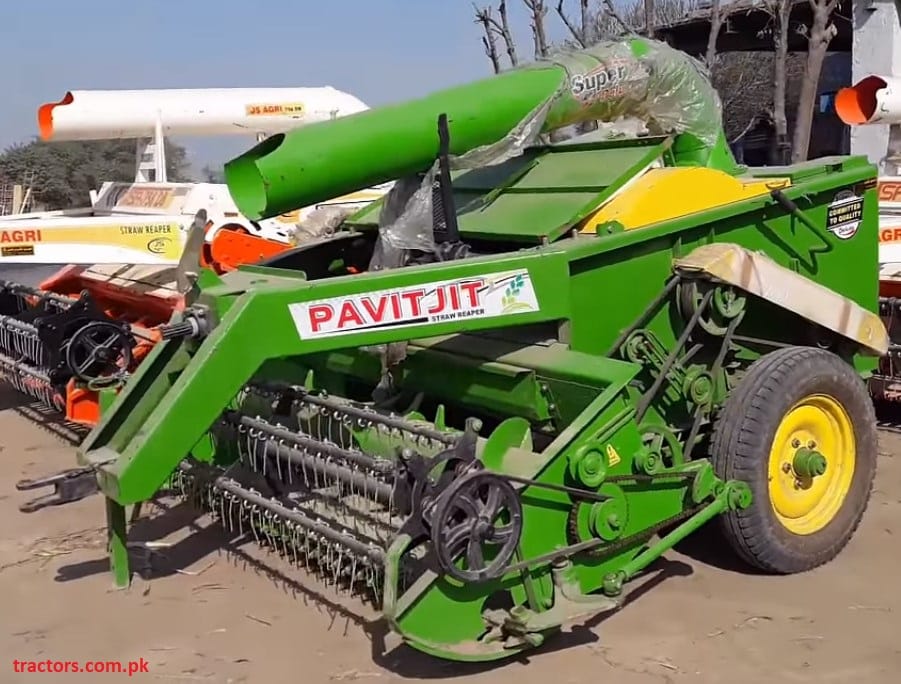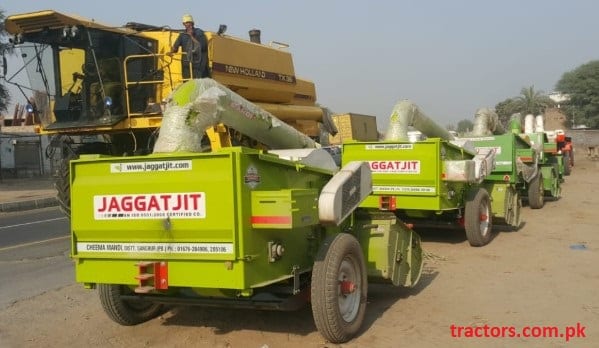 Wheat straw (Toori) is used for forage of animals this why it is known as wheat forage harvester machine too. Compressed straw by manual balers is exported and supplied to paper factories. Wheat straw chopper can be a profitable machine for the farmers.