Disc Harrow is an effective implement for soil preparation, weed abatement and mixing of harvest residues. On this page you will find disc harrow price and specifications in Pakistan. The adjustable cleaners make the discs free of any waste material, permitting excellent management. Disc harrow is primary and secondary tillage implement operated with the help of a tractor. The disc harrow is attached with 3 point linkage category tractor. It is considered little heavier implement. Tractor having above 50 horsepower is used to operate disc harrow.
Disc harrow is made of a heavy frame and round blade type disc are attached with it. Number of discs can vary including 14, 16 or 18. More the discs more power is required to run it. in Pakistan frequently tractors used for disc harrow are New Holland 640, NH Dabung, MF 375 and MF 385. These tractors have 75 to 85 horsepower engine.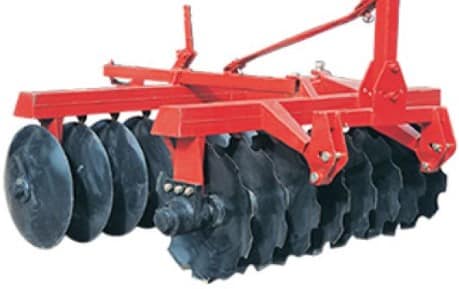 Disc Harrow Price in Pakistan 2022
| | |
| --- | --- |
| Disc Harrow | Price in PKR |
| With 14 Discs | Rs. 175,000 |
| With 16 Discs | Rs. 195,000 |
| With 18 Discs | Rs. 250,000 |
Disc harrow price depends on its number of disc and quality of the material. Lower the quality lower the price similarly the number of discs.
Check Also
Disc harrows are being manufactured by local vendors in Punjab Pakistan. Disk harrow is specially manufactured in Jhang, Gujranwala, Okara, and Multan market. Millat tractors, Saith Tufail, Agritech Multan, Kissan Implements etc. are the top manufacturers.
Tractor Disc Harrow Uses
It used to prepare soil by breaking hard clods and soften the soil.
It pulls and removes the unwanted field weeds.
Disc harrow is used to make seed beds.
It slices and blends the last crop's residues in the soil.
Disc Harrow Specifications
| | |
| --- | --- |
| Number of Discs | 14 to 18 Discs 590 Kgs. 145 cm (57") 50 HP |
| Disc Size | 61 cm (24 inches) |
| Total Weight | 550 to 800 KG |
| Working Width | 55 to 75 Inches |
| Tractor Required | 50  to 85 HP |