Laser land leveler is used before crop sowing to prepare the agricultural land. It flats te earth so that water should reach every corner of the field for better production. Millat Tractors Ltd. is market leader of tractor industry in Pakistan. Along with tractors millat implements are also considered best quality in Pakistan. They are producing a vast range of agricultural implements. On this page you will find Laser Land Leveler Price 2023 and specifications in Pakistan. Main product of Millat is Massey Ferguson tractors.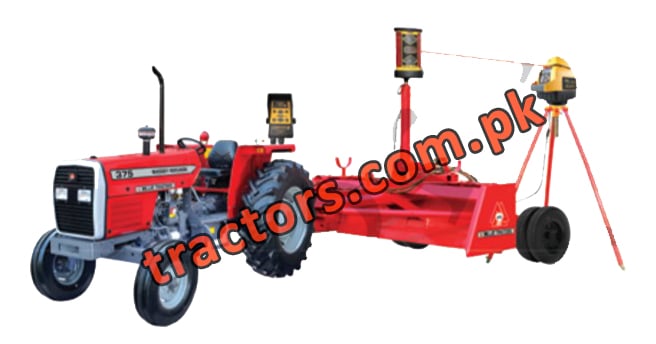 Laser land Leveler Price in Pakistan 2023:
| | |
| --- | --- |
| Price in Pakistani Rupees (Range) | PKR 700,000 to 1,400,000 |
Laser Land Leveler Minimizes the cost of operation through its efficient working. It ensures better degree of accuracy in much lesser time. Millat Laser Leveler Saves irrigation water through accurate leveling because water reaches at every end of field.  It ascertains uniform seed germination and increases fertilizer effectiveness and resultantly enhances crop yield.
Salient Features of Laser Land Leveler:
Backed by Millat Guarantee
Range : Diameter 1 Km (Approx.)
Reliable Fully Automatic Transmitter
Durable, Shock Proof Big Screen Receiver
Control Box with Manual or Automatic Settings
Provision of Slope S
Heat Resistance & Water Proof
Millat Tractors Laser land Leveler Specifications: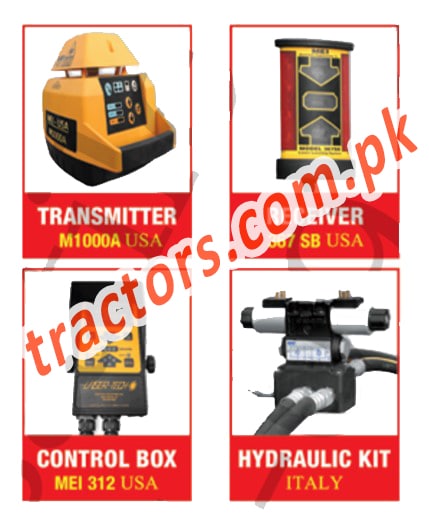 TRANSMITTER (MEI — USA; Model: M1000A)
Heat Resistant (up to 60 C) and Water Proof
Tripod Mounting System
Working Area: Diameter: 1000m/1 Km (Approx.)
Provision of Slope: 1mm to 10ft
Accuracy: ±1.5mm
Self-Leveling Range: Horizontal: ±5
Rotating Speed: 600-1200 rpm
Operating Time: – With battery: 65hrs – With dry cells: 25hrs
RECEIVER (MEI – USA; Model: 367 SB)
Extremely Durable: Internally Protected from Shock & Vibration
Beam Detecting Angle: 360 degree
Height: 7.8″ (200 mm)
Water Resistant & Dust Proof
Super Bright LED Display
Two Intensities: (1) Super Bright for high ambient light levels (2) Softer for Low light
Power Source: 12/24 V DC
CONTROL BOX (MEI – USA; Model: MEI 312)
Heat & Water Resistant
Fully Automatic Blade Control for Precision Grading
Manual or Automatic Control
On Grade Accuracy Selection
Operating Temperature: -15′ C to 60
Operating Voltage: 12V DC
Weight: 1.5kg
HYDRAULIC KIT: (Aron – Made in Italy)
LASER SCRAPPER DIMENSIONS:
– Overall Length: 4,400 mm (14.4ft)
– Overall Width: 2,570 mm (8.4ft)
– Overall Height: 2,000 mm (6.5ft)
Approx. Weight: 1,000 Kg
Tyres: 04 Nos.
Size: 6.50-14 (6PR)
COMPATIBLE TRACTORS:
Millat Tractors claims their two models are compatible with this Laser Leveler MF 375 (75 HP) and MF 385 (85 HP). Laser Land leveler Price in Pakistan of other companies is also available on our website.