Information about New Holland V Massey Ferguson – Millat Vs Al Ghazi tractors is shared on this page. In Pakistan New Holland and Massey Ferguson tractors are manufactured by Al Ghazi Tractor and Millat Tractors Ltd. respectively. AGTL (AL Ghazi Tractors Ltd) manufacturing plant is located at Sakhi Sarwar Road, DG Khan. MTL (Millat Tractors Limited) is manufacturing their tractors at Sheikhupura Road, Lahore, both are the top tractor manufacturing companies in Pakistan. Comparison between Millat vs Al Ghazi Tractors has been shared below.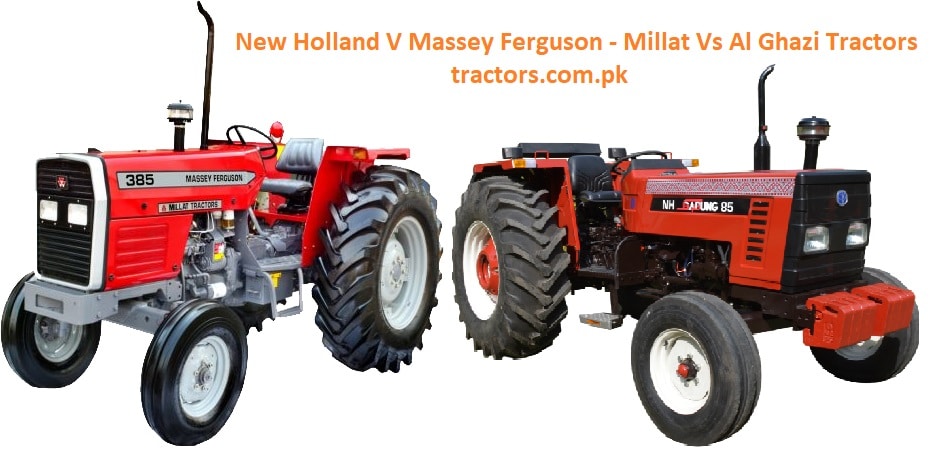 New Holland V Massey Ferguson | Millat Vs Al Ghazi Tractors – Market Share
MTL & AGTL New Holland V Massey Ferguson both are at the top manufacturing companies, although Millat (Massey Ferguson) Tractors Company is the Market leader with share of above 60%. AGTL (New Holland) comes at second position with market share of 38%.
MF & NH both are trying to snatch more MS with introducing new market tactics. These include quality improvements, marketing strategies and introducing new models with little amendments. Market share of both vary area to area for example where there is more sugarcane crop there are MF tractors. On the other hand if come to cotton and wheat crop belts there are NH tractors dominant.
New Holland V Massey Ferguson | Millat Vs Al Ghazi Tractors Comparison – Models
Specifications and prices are available on our website please explore.
Prices of both tractor models are approximately same there is little difference between them.
Check here prices:
New Holland V Massey Ferguson | Millat Vs Al Ghazi Tractors Performance Reviews:
AL Ghazi Tractors is also known as Fiat Tractors as they have Fiat Tractor Models in their product fleet. Fiat Tractor are considered best for farming purposes like, using implements (Cultivator, Rotavator, disc Plough, Laser Land leveler, Wheat Thresher, Wheat reaper etc.), They have less fuel consumption than Massey tractors.
Millat Tractors are dominant in haulage and commercial segment as their rear portion is strong. AGTL tractors broke rear axle tubes while using on loaded trolleys since last 7 to 8 years. However they have overcome this issue with replacing the rear axle tubes material with SG (Spheroidal Graphite) Iron. Number of complaints of tube breakage has fallen down to ignorable numbers. Fuel consumption of MF tractors is more on farming implements usage. These tractors are mostly used for haulage and where there soils are lenient.
Millat Vs Al Ghazi Tractors – Booking and Delivery
You can buy or book your tractor through dealers of both companies. Dealership network of MTL and AGTL is spread all over the Pakistan. 3S dealers of both companies are available in Punjab, Sindh, KPK and Balochistan through them booking of tractors is done. Warranty claims are also entertained through dealers. Both companies give delivery period of tractor models after booking and depositing full payment.
For Online Booking of tractor please contact us by clicking here. (Fill the Contact Form)