Cotton Price and Phutti Rates Today Live Updates January 2023
Besides updating you about the tractor and implements prices on our website now you will find today cotton price and phutti rate in Pakistan 2022. We have started to post cotton rate on daily basis. We will updated the phutti rates as per market situation.
Cotton is fibrous and cash crop of Pakistan. This crop has the most importance in the national economy. It provides raw material not only to the textile industry but also to the oil production too. Cotton and cotton made commodities has the largest share in the country exports. Being cash crop it provides reasonable profit to the farmers along with the employment to the labor. Pakistan is the 4th largest country in the world for cotton production. Cotton is termed as Kapas, Narma, Rooi/Rui and seed cotton is called Phutti in local Pakistani languages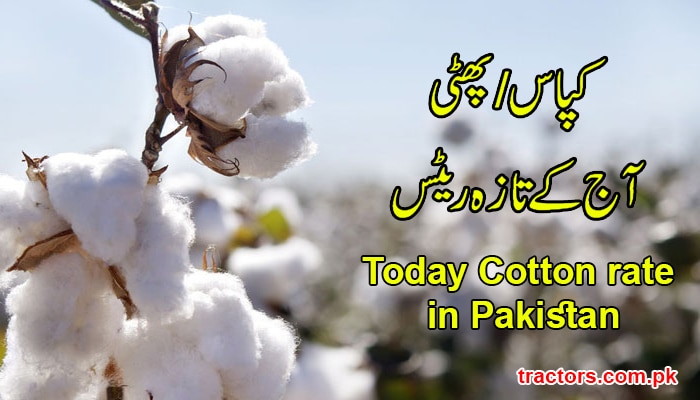 Cotton Price in Pakistan Today January 26, 2023 Phutti Rates / آج پھٹی کا ریٹ
The All Pakistan Textile Mills Association (Aptma) has asked the government to provide a minimum support price of Rs8,000 per 40kg.
District / City
Minimum Rate
Maximum Rate
Average Rate
Punjab
Khanewal
5,750
8,000
6,875
Sahiwal
5,500
8,600
7,050
Vehari
6,000
8,100
7,050
Bahawalpur
6,833
8,383
7,608
Bahawalnagar
7,000
8,561
7,780
Sindh
Naushro Feroze
5,000
7,500
6,250
Nawabshah
5,625
7,250
6,438
Sanghar
6,000
7,000
6,500
Sukkur
5,750
7,400
6,575
Dadu
6,500
7,200
6,850
Ghotki
6,500
7,300
6,900
Balochistan
Lasbella
5,500
6,400
5,950
Kech(Turbat)
7,000
7,700
7,350
Panjgur
7,500
7,800
7,650
Barkhan
7,500
8,200
7,850
Kalat
7,500
8,300
7,900
Kharan
7,800
8,300
8,050
Khuzdar
8,000
8,350
8,175
Multan, Bahawalpur, Khanpur, Liaqatpur, Rahim Yar Khan, Sadiqabad, Bahawalnagar, Faqirwali, Fortabbas, Haroonabad, Chishtian, Hasilpur, Khanewal, Mian Channu, Chichwatni, Lodhran, Rajanpur, Vehari, DG Khan, Jampur, Fazilpur, Sahiwal, Layyah, Jhang, Toba Tek Singh, Ghotki, Mirpur Mathelo, Rohri, Sukkur, Daharki, Panno Aqil, Shahdadpur, Khairpur, Hyderabad,
جانیئے: پاکستان میں تمام ٹریکٹرز کمپنیوں کی قیمتیں
نوٹ: شہر اور ڈسٹرکٹ کے مطابق قیمتوں میں ردو بدل ہو سکتا ہے۔
Disclaimer: Cotton price or phutti rate is per mann / maund minimum to maximum provided by relevant departments and Ghalla mandi market. Price may vary city to city.
Tractors and Cotton
Cotton and tractor have the close relation with each other. Nowadays cotton can not be sown without tractor and implements. Whenever there is good production or yield tractor sales boosts. Cotton produce can take up and take down tractor industry depending upon the farmers profit. After harvesting and selling cotton farmer's first priority becomes to buy tractor. Tractor is an significant asset for them which helps them preparing fields and growing crops. New Holland Al Ghazi tractor and Massey Fergosn Millat tractor are most used brands for cotton sowing.
Implements are used to prepare fields before cotton sowing. Most used implements in the cotton field preparation are Rotavator, Chisel plough, laser land leveler and ridger. Cotton is sown on ridges which saves time and money along with water saving.
Sowing Time of Cotton is from mid of March to mid of June. Harvesting or picking of Cotton / Kapas starts from October and ends before January.
To pay their tractor installments some farmers exchange debt with their cotton crop. As per cotton price their remaining amount of tractor becomes paid.