NH 640 Special is 85 horsepower tractor made by New Holland Al Ghazi Tractors Ltd. New Holland 640 tractor has two variants including 75HP and this 85HP. Though AGTL has another tractor of same HP which is NH Dabung 85 model both have same prices.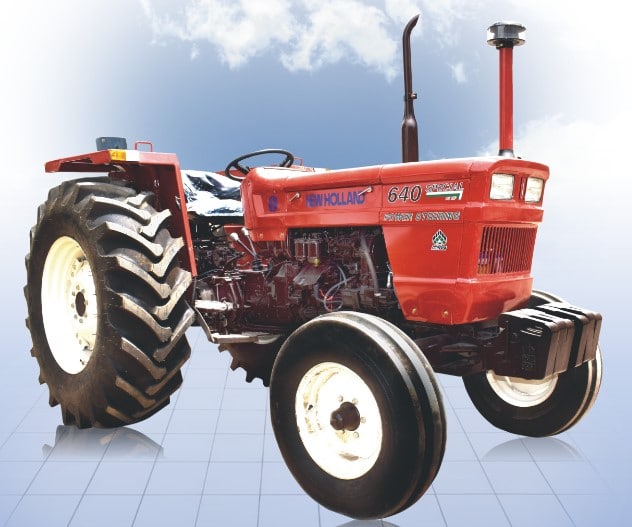 NH 640 Special 85HP Tractor Price 2023:
Model

 Price in PKR

NH 640 Special

(Discontinued in Dec-2020)

Last price was = PKR 1,472,100

NH 640 Special with Disc Brake

(Discontinued in Dec-2020)

Last Price was = PKR = 1,475,250
Check all AGTL Tractor Model Prices 2023
Check Details: AL Ghazi Model 2023 Blue Tractor
The competitor model of NH 640 Special tractor is MF385 of Millat Tractors. There is a reasonable price difference between these two. Though Massey Ferguson 385 has higher demand on the other side. If we see the sales contribution of this model in total sales of the company it is 4% to 5%. Old Fiat 640 Tractor lovers still have this model in their preference list.
Also Check: NH Dabung 85 Tractor Price
Also Check: MF 385 Tractor Price
NH 640 Special 85HP Specifications:
ENGINE POWER
At flywheel
85HP
OPERATING WEIGHT
2,100 KG
ENGINE
New Holland 8045.05, 4-Stroke, direct injection diesel engine
Number of cylinder:
4
Bore and stroke:
104x 115 mm
Piston Displacement:
3,908 cc
Flyweight type dynamic balancer. Compression ratio:
17:01
Max. Power at 2,600 rpm:
85 HP
Max. Torque at 1,600 rpm:
 29.7 kgm
Cooling system:
Water
Exhaust muffler:
vertical
Dry-type cylinder liners.
Oil Cooler
Five-row, brass tube and copper fin radiator Forced-feed lubrication system.
Two power outlets for hydraulic pump on timing cover. Distributor type fuel injection pump with mechanical speed governor.
Five bearing crankshaft.
FILTERS
Air:
Oil-bath with pre-cleaner
Fuel:
2 replaceable cartridges
Oil:
Easy-to-change, continuous-flow cartridge
CLUTCH
Dual plate, dry-type with separate controls (pedal for transmission and hand lever for PTO)
Diameter of plates:
11 inch
Plates facing of asbestos compound.
TYRES
Front
7.50-16
Rear
18.4/15-30
TRANSMISSION
Gearbox with constant-mesh gears:
8 forward and 2 reverse speeds.
Synchromesh on 3rd, 4th, 7th and 8th speeds Double control lever
Differential lock with pedal actuated and automatic disconnection.
Spur gear final drives.
Gear Box mounted starter safety switch.
FRONT AXLE
Inverted U section, telescopic type, front weight 120 kg.
STEERING
Hydro assisted with independent circuit. Minimum turning radius:
with brakes
3,400 mm
without brakes
3,700 mm
POWER TAKE OFF (PTO)
6 spline shaft – 35 mm dia/ 1-1
Fully independent: 540 rpm at 2,160 engine rpm High­speed DTO(*) 35 mm dia / 1-1
same speed as engine.
(*) for application of high speed implements
HYDRAULIC LIFT
With draft and position control,
Draft control through top link.
Gear type pump driven from engine crankshaft.
Pump capacity (at 2,400 engine rpm): 26.7 i/min Relief valve opening pressure:
 190 kg/cm2
3-point linkage Cat I – II
Sway chains.
Lift lever lock bracket.
Max. Lifting capacity:
 2,150 kg
DRIVER'S SEAT
Fully upholstered, with parallelogram suspension, adjustable, foot step for ease.
BODY
Hood with side-hinged cover for engine inspection. Front grill is easily removable for quick access to air cleaner and battery
LIGHTING SYSTEM
3-position headlights; (parking, low & high beam). Blue high beam warning light on instrument panel. Adjustable head light mounted in the front grill, indicated, Parking & Hazard lights.
ELECTRICAL SYSTEM
12 Volt starting system, 4hp (3kw) starter motor, 400 watts alternator, 108 ah battery.
INSTRUMENT PENEL
Separate temperature, fuel gauge & hour meter.
CAPACITIES
Fuel tank:
54 L
Engine oil:
11.5 L
Hydraulic Transmission: Rear Axle:
18L
Air Cleaner:
4+4 L at both sides
Power Steering:
1 5 L
BRAKES
Service dry band-type; mechanically operated. Parking: manual lever on right side of operator
OPTIONAL
Canopy, Towing hook, Swinging Draw bar, Cold Starting aid, Front weight, High Clearance Kit, Low Clearance Kit, DTO pump applications and Creeper gear, Disc Brakes etc.
DIMENSIONS
(With 7.50-16 and 18.4/15-30 tyres)
Wheelbase:
2,070 mm
Overall length:
3,330 mm
Height to top of hood:
1,460 mm
Height to steering wheel:
1,610 mm
Front track (8 positions):
from 1,320 to 2,020 mm
Rear track (8 positions):
from 1,320 to 2,020 mm
Ground clearance under front axle:
540 mm
Check Also: All Tractor Model Prices in Pakistan