Tractor industry is growing day by day in Pakistan. Tractor sales figures in first half of 2018 recorded highest in its history. Sales volume of tractor brands with their market share has been shared below. You can see quarterly sales analysis of Pakistani tractor manufacturing companies in the year 2018.
Millat tractor which is manufacturing Massey Ferguson tractors is the market leader followed by Al Ghazi and IMT. MF is snatching over fifty percent market share from its competitors. Al Ghazi AGTL on the other hand is struggling to level or cross Millat through its modern marketing strategies.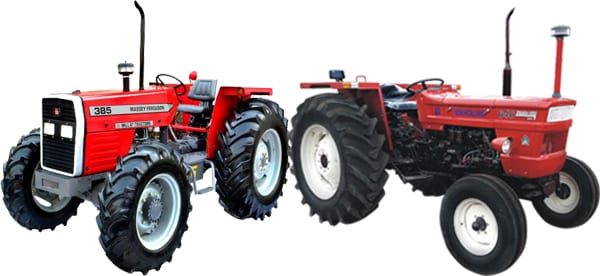 Last 4 to 5 months of 2018 did not go well in favour of the tractor industry. Companies had to shut down their manufacturing plants during the start of December till the end of January 2019. The reason behind this was depreciation of Pakistani Rupee against Dollar. Which further increased the production cost and lowering the gross profit.
Check Also: Top 5 Tractor Brands in Pakistan
Market Share of AL Ghazi Tractors and Millat Tractors Ltd.
#1st Quarter
Tractor Sales Figures – 1Q 2018

Company
Total

Market Share

Millat (Massey Ferguson)
11025
55.3%
AGTL (New Holland)
8827
44.2%
IMT – Bull Power
98
0.5%
Total
19950
100.0%
#2nd Quarter 
Sales Figures – 2Q 2018

Company
Total

Market Share

Millat (Massey Ferguson)
11528
61.9%
AGTL (New Holland)
6951
37.3%
IMT – Bull Power
148
0.8%
Total
18627
100.0%
#3rd Quarter 
Sales Figures – 3Q 2018

Company
Total

Market Share

Millat (Massey Ferguson)
10014
72.9%
AGTL (New Holland)
3602
26.2%
IMT – Bull Power
115
0.8%
Total
13731
100.0%
#4th Quarter 
Sales Figures – 4Q 2018

Company
Total

Market Share

Millat (Massey Ferguson)
6096
57.6%
AGTL (New Holland)
4547
42.3%
 IMT – Bull Power
103
1.0%
Total
10746
100%
Total Sales & Market Share 2018
Total Tractors Sales Figures 2018

Company
Sales
Market Share
Millat (Massey Ferguson)
38670
61.3%
AGTL (New Holland)
23917
37.9%
IMT – Bull Power
467
0.7%
Total
63054
100.0%
Source: PAMA
Check Also: