Agricultural Implements Subsidy Scheme 2019-20 has been announced by Prime Minister of Pakistan. Objective of this scheme is to increase per acre yield of Wheat crop in Punjab. Punjab farmers will get specific agri implements on 50% subsidy rates. It means 50% payment will be paid by government after farmer has got him name in lucky draw.
Agri department has invited all farmers to submit applications to apply for Implements Subsidy Scheme 2019-20. Detail of implements is given below
Implements Subsidy Scheme 2019-20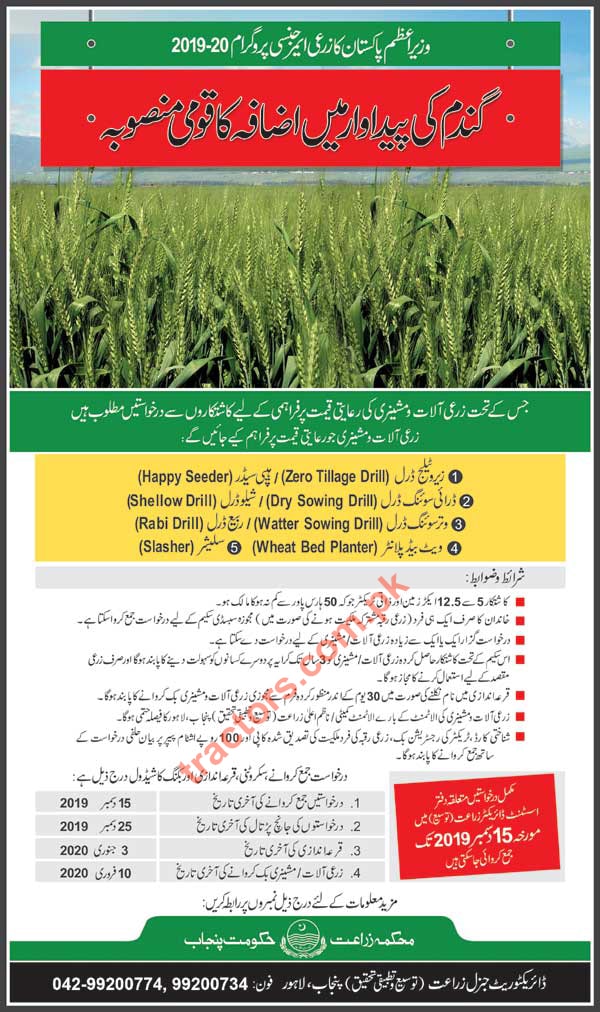 | | |
| --- | --- |
| Implement Name | Picture |
| Zero Tillage Drill / Happy Seeder | |
| Dry Sowing Drill / Shallow Drill | |
| Watter Sowing Drill / Rabi Drill | |
| Wheat Bed Planter | |
| Slasher | |
Download application form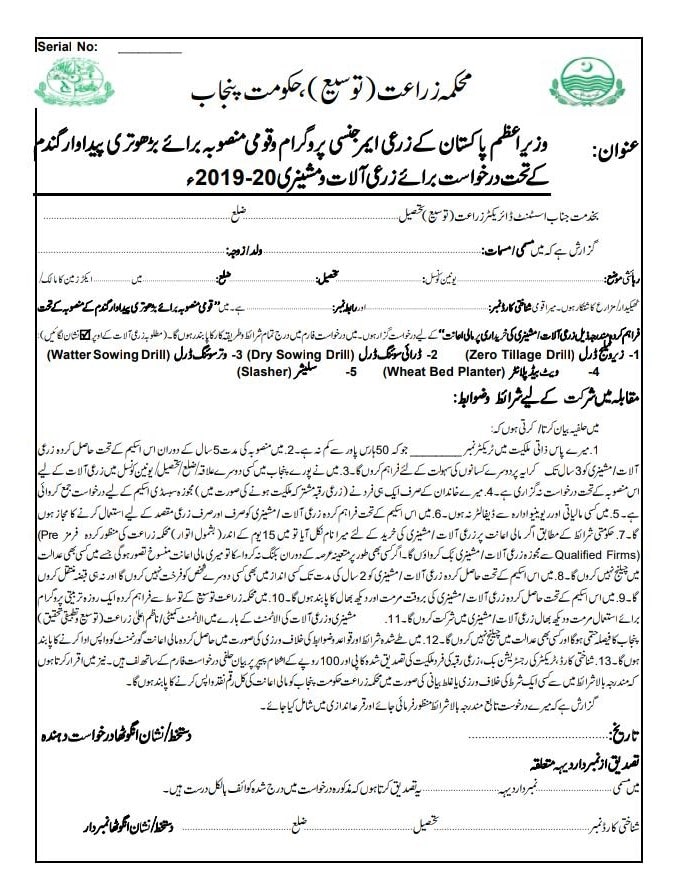 Attach following documents with the form and submit to your relevant Assistant director extension department.
Valid CNIC
Registration book of tractor
Attested copy of owner's agriculture land (Fard Malkiyat)
Affidavit on Stamp paper of Rs. 100/-
Schedule of Implements Subsidy Scheme 2019-20
| | |
| --- | --- |
| Last date to submit application | 15 December 2019 |
| Inspection of applications | 25 December 2019 |
| Last date of Balloting (Qura andazi) | 03 January 2019 |
| Last date of booking implements | 10 February 2019 |
Check Also: Tractor Implements Prices in Pakistan
Terms & Conditions for Subsidy Scheme 2019-20
Farmer should have land holding of 5 to 12.5 acres and a tractor of minimum 50 horsepower.
Only one person in family can apply for this implements subsidy scheme.
Applicant can apply for one or more implements at a time.
Farmer who will get the implement is bound to facilitate other farmers by providing these on rental basis for three years period.
After balloting farmer will be bound to book implement from approved vendor within 30 days.
Decision of agriculture extension department about allotment of agricultural implements and machinery will be absolute and final.
It is good opportunity for Punjab farmers to get valuable machinery through this subsidy scheme. Good practices through these will surely increase the wheat yield and be profitable for the farmers.
For more information contact Agriculture Department Government of Punjab.
Check Also: All tractor Prices in Pakistan