₨ 1,500 – ₨ 1,750
New Holland Fiat Al Ghazi AGTL all tractor models stickers set. New Holland logo and tractor model name stickers available.
To order WhatsApp or Call us.
Description
Genuine stickers of New Holland Fiat Al Ghazi tractor models stickers set available at reasonable price.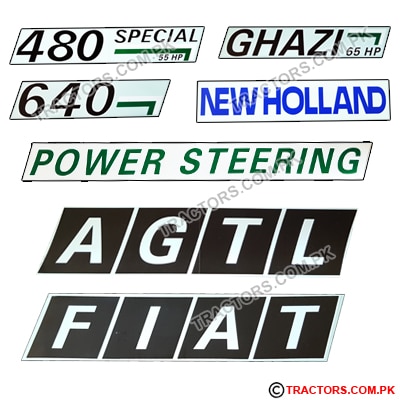 New Holland Tractor Models Stickers Set:
Original complete set of stickers for Fiat NH480, NH-Ghazi, NH640 and New Holland Dabung tractor available in Pakistan.
STICKER-OK
STICKER-LOGO (NEW HOLLAND)
STICKER SIDE NH 480S-G
STICKER LARGE
STICKER 480-G
STICKER AJRAK SET
STICKER 480S
STICKER 480S POWER
STICKER 480-S ECONO
STICKER (GHAZI)
STICKER POWER STEERING
SIDE STICKER AGTL
STICKER GHAZI 65 HP
STICKER SIDE NH 640-640S
STICKER 640 SPECIAL 85 HP
STICKER HYD.POWER 640
STICKER 640-640S
STICKER AJRAK – DABUNG
STICKER SIDE RH 70-56
STICKER SIDE LH 70-56
STICKER- LIFTO MATIC
STICKER (WARNING)-56
STICKER PUKAR (LARGE)