Millat Tractors Warranty Policy:
Millat tractors warranty claim 2021 details have been briefly explained here. if there comes any fault or defect in the tractor, the company is responsible to solve the issue within the given warranty time period. Fault in the tractor may occur due to poor manufacturing or bad material quality. Sometimes component fitment is not made correct by manual labor which may cause any damage while working in the field.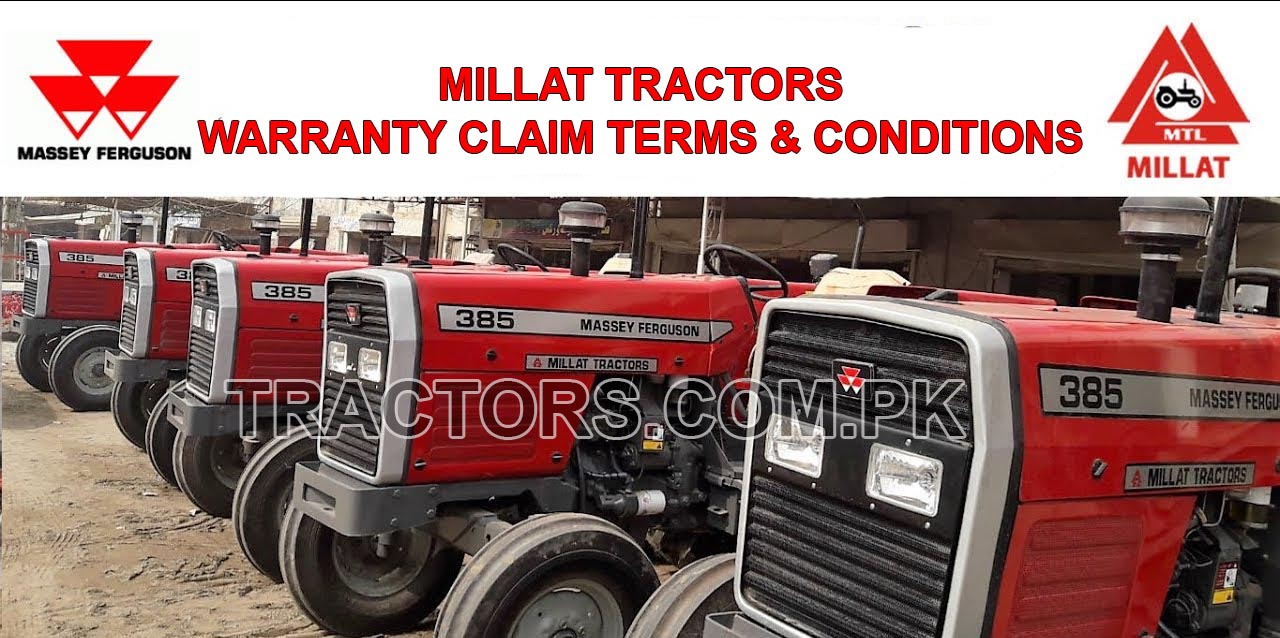 Millat Tractors Warranty Time Period:
The company provides a warranty of 12 Months or 1200 engine operation running hours whichever comes first from the date of delivery or invoice.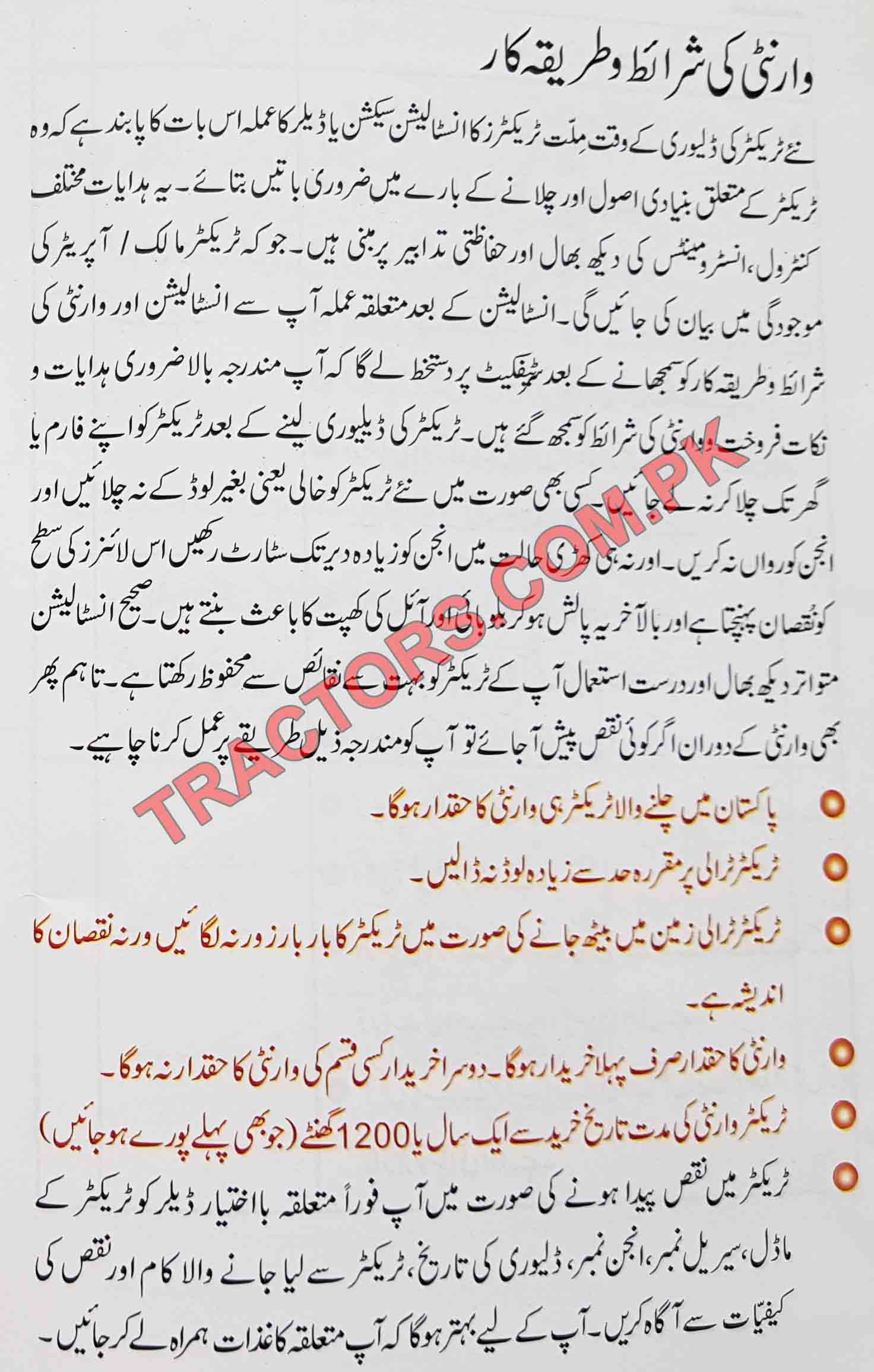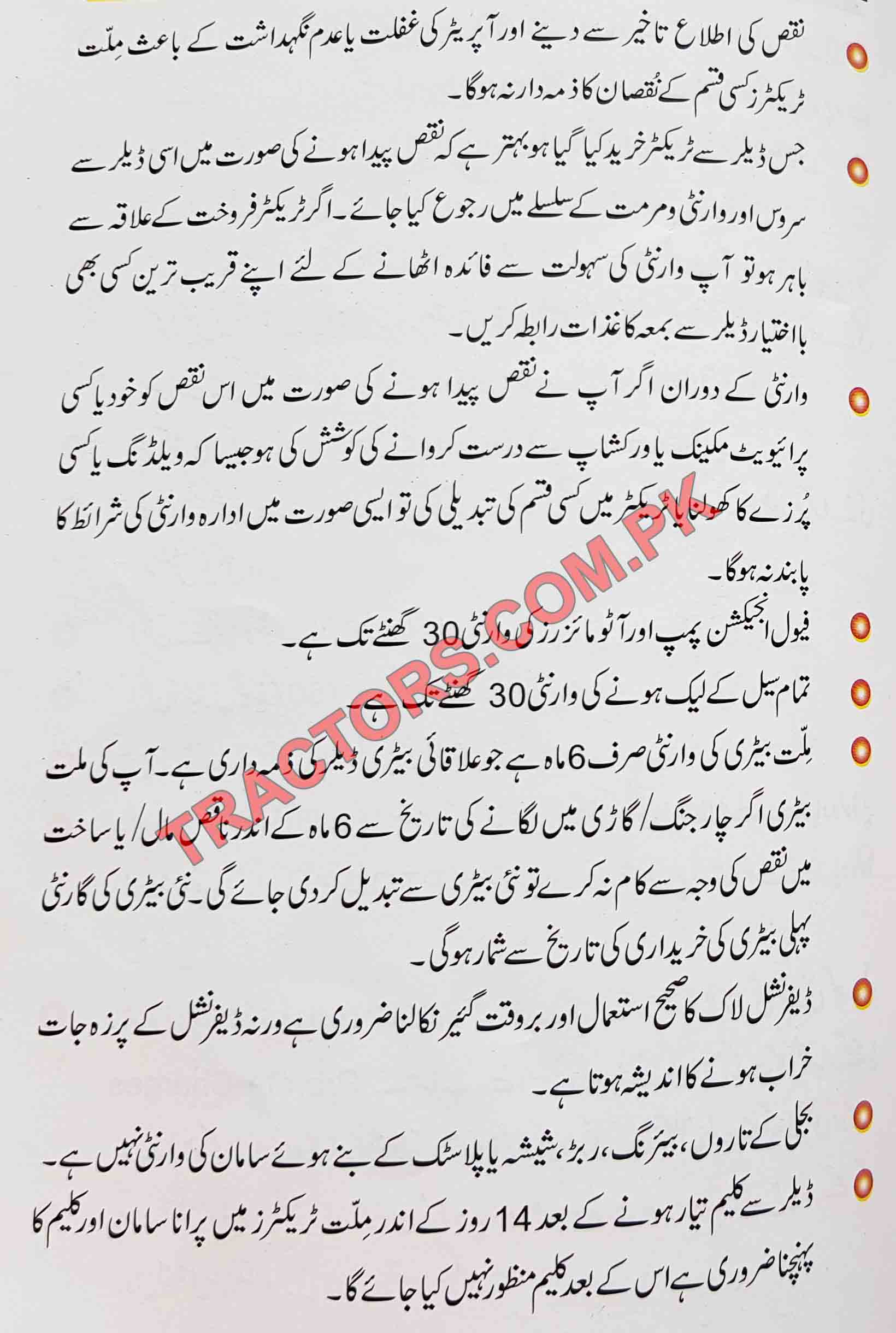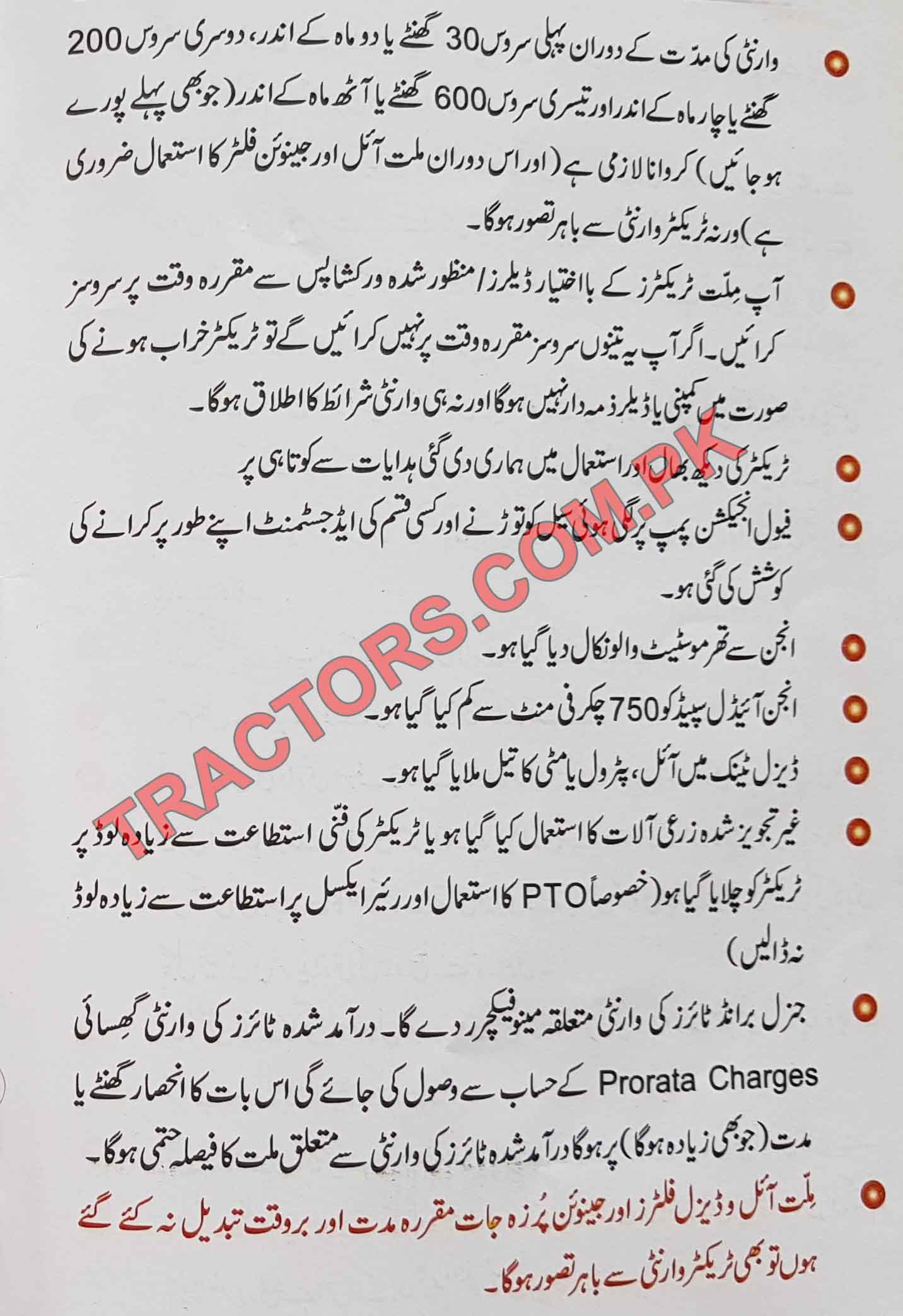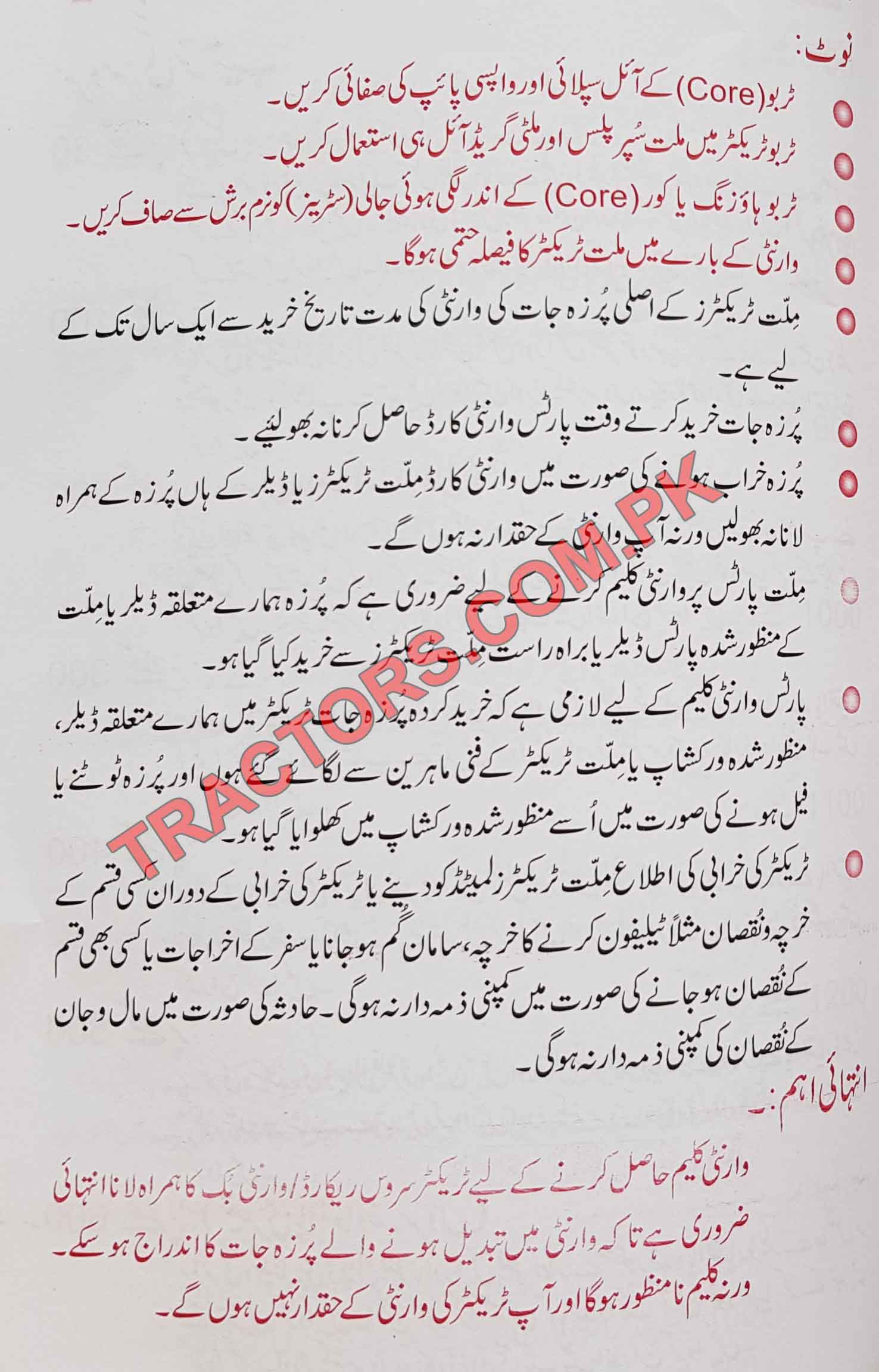 Warranty Terms & Conditions:
Below mentioned are the terms and conditions of tractor warranty claim.
Tractor running only in Pakistan will get the warranty claim.
Parts made of plastic, rubber, glass and bearings are not entertained for warranty claim.
Damage or loss occurred due to an unfortunate accidental case is not considered for warranty.
If the first buyer has sold the tractor to another person, he will get warranty from the date of invoice or delivery by the company.
Warranty claim of Fuel injection pump (FIP) and injectors (atomizers) is admissible if defect occurs within the initial 30 hours.
Claim of warranty will be entertained through the concerned battery dealer within six months of battery manufacturing or tractor invoice date.
Tractor tyre warranty is equal to 12 months or 1200 hours running of tractor. Claim is given by the concerned tyre company.
Tractor warranty will end if
A customer has not carried out the free services given by the company at mention time periods. Free service coupon must be submitted to the company authorized dealer or workshop.
Schedule of free services is as under

1st free service at 30 hours or within 2 months
2nd free service at 250 hours or within 4 months
3rd free service at 600 hours or within 8 months

Component already replaced with non company vendor.
Genuine engine oil and filters of company are not used.
Overloading, misuse of tractor is done.
Any tempering with speed-o-meter / F.I.Pump seals and if engine is made to run below 750 RPM idling speed.
The tractor is repaired by yourself or in any unauthorized workshop.
Thermostat valve has been removed from the engine.
Diesel tank found contaminated with lube oil, petrol, or kerosene oil or other material.
Implements used other than recommended by the company.
Also Check: Millat Tractors Latest Price List
Warranty Claim Procedure:
Your tractor should be under warranty. If any defect occurs in the tractor then immediately notify your nearest company dealer. Inform him about your tractor model, engine number, chassis number, invoice number and delivery date. You better go at dealership along with tractor documents and explain the fault occurred in the tractor.
To get warranty claim it is better to go to that dealership from tractor was purchased if it out of area you can go to any nearest dealer. It is very important to take tractor's service record / warranty booklet with you which helps dealer to raise a warranty claim and enter the defective parts.
To provide fast after sales service company has kept some spare parts at dealerships. If defective component is available at dealership you will get the warranty claim at the spot. Otherwise dealer will send a request to Millat Tractor Limited for the replacement approval of the part.
Millat Tractors Customer Helpline:
So far Millat has not launched any dedicated helpline number for customer complaints. Complaints are handled through concerned regional offices. Contact numbers of Millat tractor head and regional offices are given below.
Head Office Lahore Number 
UAN: +9242111200786
Direct: +924237924166, 042-37925835
Multan Office
061-6537371
Sukkur Office
071-5815041
Islamabad Office
051-2271470
Karachi Office
+92 21 345 537 52
Hope you have understood the Millat tractors warranty claim terms and conditions. Do comment below for your opinion.
Check Also: All Tractors Companies Prices in Pakistan