Ursus tractors in Pakistan are being manufactured by FarmAll Technology whose plant is based in Lahore. Check Ursus tractor models prices and specifications of existing models in Pakistan. Basically, Ursus is originally Poland Company, in Pakistan their three models are available. FarmAll company has been producing farm machinery including agricultural implements and tractors. Ursus models can fulfil farmers tillage requirements as others do. Engine performance and work efficiency of Ursus tractors are good.
Ursus tractors are economical and best for agricultural purposes. These tractors have little market share in tractors market Pakistan. Tractors are economical and have often been seen in haulage segment. Right now production has stopped and new models are not available for sale. You can buy only old models from the users. Although Ursus has popular high horsepower range models in European countries. They had planned to launch 4WD tractors too but due to some reasons FarmAll company is not producing further.

Ursus Tractor Prices 2023 – Made in Pakistan
| | |
| --- | --- |
| Model | Price List |
| 2812 (50HP) | Rs. 6.5 Lakh |
| 3512 (60HP) | Rs. 7 Lakh |
| 4512 (75HP) | Rs. 11 Lakh |
All these tractors are 2WD wheel drive 2WD.
Features of Ursus Tractors
Good design and quality
Compatible with all agricultural implements
Acceptable Resale value
Less fuel consumption
Engine and parts durability
Lower, easy maintenance & cheaper repair
Less operating cost
Spare parts easily available most parts of Fiat and Massey can be inserted.
1. Ursus 2812 Tractor

2. Ursus 3512 Tractor

3. Ursus 4512 Tractor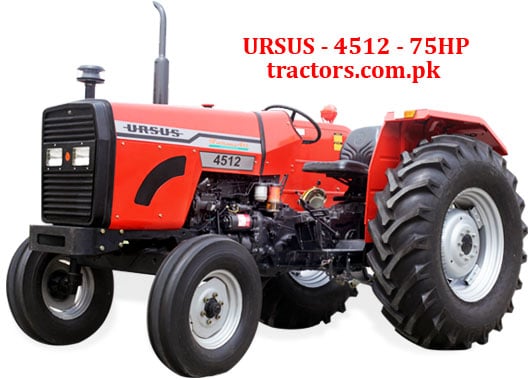 There is no dealership network of Ursus tractors in Pakistan. You will find only old models in the market. If we compare these tractors with AGTL and MTL models they are good and can give tough time in performance. But Millat and Al-Ghazi both have strong dealership network in the country.