New Holland is one of the top tractors brand in India. New Holland tractors India models latest prices 2020 have been given below. In agriculture sector New Holland is providing its latest technology machinery for better agriculture business.  In India New Holland plant is based in New Delhi where tractors are being manufactures. About 17 models are available in the market of New Holland brand. This range of different HP models give an opportunity to every farmer.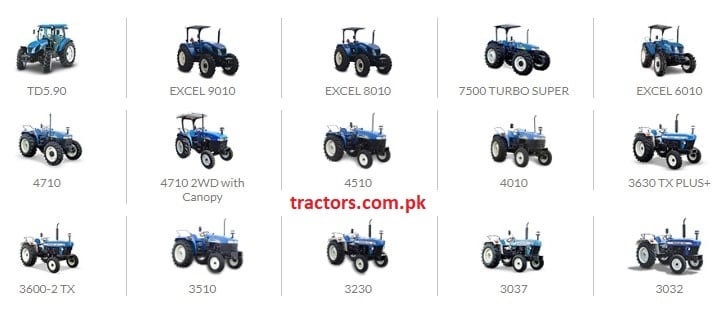 New Holland Tractors India Price List 2023:
Model

Horse Power

Price List

TD 5.90 4WD

 

90 HP
₹588,000

EXCEL 9010 4WD

 

90 HP
₹600,000

EXCEL 8010 4WD

 

80 HP
₹600,000

7500 TURBO SUPER 4WD

75 HP
₹300,000

EXCEL 6010 4WD 

60 HP
₹600,000

5500 TURBO SUPER 2WD 

55 HP
₹1,032,000

New Holland 4710 4WD 

47 HP
₹976,800

4710 2WD with Canopy 

47 HP
₹830,400

New Holland 4510 2WD 

42 HP

₹601,135

4010 2WD 

39 HP
₹530,500

3630 TX PLUS+ 2WD 

 

55 HP
₹600,000

3630 TX SUPER 2WD 

 

50 HP
₹984,000

New Holland 3600-2 TX 2WD 

 

50 HP
₹600,000

NH 3510 2WD 

 

35 HP
₹500,000

New Holland 3230 2WD 

 

42 HP
₹540,800

New Holland 3037 2WD 

 

39 HP
₹624,000

3032 2WD 

 

35 HP
₹496,000

New Holland 3030 MU 2WD

35 HP
₹300,000
These tractor have good quality and performance while in the field. These tractors can operate every tillage implement and do every field related job efficiently. Small horspower tractor of 35HP are also avaialble. In India maximum HP tractor manufacture at new holland plant is 90 HP.
New Holland tractor India are offering 35HP to 90HP agricultural tractor all over the country. This gives an efficient choice to farmers for good profitability and productivity. While in Pakistan Al-Ghazi Tractors are manufacturing New Holland tractors at Dera Ghazi plant. But their tractor models are different and have limited variety from Indian manufactured models. Reason is New Holland itself is not operating the Plant but Al-Futtaim is the managing company there.
Dealers of New Holland tractors India are almost in every big city. Find dealers in your area through dealer finder.
Images Source: New Holland India