New Holland TC 56 combine harvester was launched in 1991. It is manufactured by New Holland Agriculture and now this model has been discontinued. The latest model of TC56 harvester was released in 2010. TC 56 is excellent performance giving machine and one of the best in its time. It is more comfortable for the operator and gives higher efficiency.
Old models of TC 56 combine harvester are available for sale in the market. in Pakistan, its models ranging from 1995 to 2004 year are available. TC 56 has mechanical and hydraulic versions.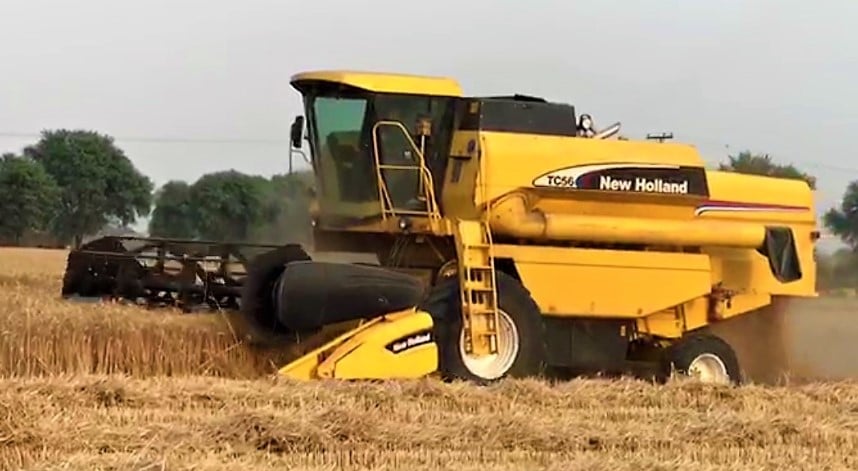 New Holland TC 56 Combine Harvester Price in Pakistan
| | |
| --- | --- |
| Model | Price in PKR |
| 1995-1998 | Rs. 35 to 40 Lakh |
| 1999-2004 | Rs. 40 to 60 Lakh |
Machines price depends upon the model and its condition. These are the price ranges of used models which are imported in Pakistan.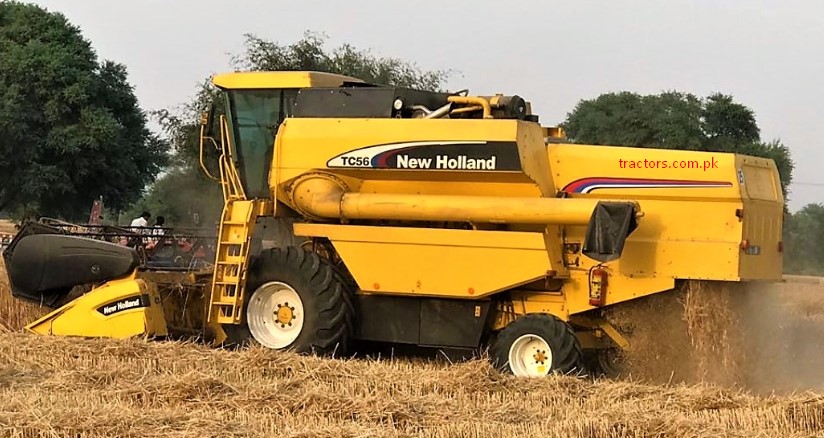 New Holland TC 56 Combine Harvester Specifications
Engine
Engine manufacturer
New Holland
Engine type (model / version)
6.75T
Engine capacity
7474 cm3 (7.5 l.)
Cylinders,
6 Nos.
Turbocharging
Available
Power (kW/HP)
114 kW / 155 KM
Engine fuel tank
300 liters
Header
Header width (working)
450 cm
Alternative widths
356 – 520 cm
Automatic header height mode
N/A
Header tilt systems
N/A
Header tilt adjustment
N/A
Reel diameter
106 cm
Reel speed adjustment
Electric Engine
Header reverser / Reel reverse feature
Hydraulics
Threshing System
The diameter of cylinder threshing mechanism
60 cm
Width of cylinder threshing mechanism
131 cm
Straw Walkers
Straw walkers, qty
5 straw walkers
Straw walkers area
5.1 m2
Straw walkers length
375 cm
Sieves
Upper sieve area
n.d.
Lower sieve area
1.72 m2
Total screening area
4.2 m2
screening area covered by the fan
Lower sieve type
Adjustable
Road Speed
Max. speed
26 km/h
Grain loss indicator
N/A
Transmission
Transmission Type
Hydraulic transmission
Forward and Reverse Gears
4+4
Brakes
Brakes
Hydraulics & Disc Brakes
Dimensions
Length (with header)
9.3 m
Width (with header)
4.91 m
Width (without header)
3.38 m
Height (with cab)
3.81 m
Height (without cab)
3.71 m
Total weight (with cab)
9750 kg
Total weight (with header)
8500 kg
Front tyres (drive wheels)
23-1R30
Rear tyres (turning wheels)
13,0/65-18
Alternative rear tyres
10,50-18
AC
Air conditioning
Available
Heating
Optional
Spare parts of TC 56 combine harvester are available in Pakistan. There is no problem regarding the availability of its spares. Maintenance workshops are already in work. Service providers are earning from this machine by running it commercially.
TC 56 combine harvester Video